Sika is committed to promoting on-the-ground self-help. When supporting social projects, local Sika companies are required to put forward specific aid applications and, together with local partners, to supervise the projects on site until completion.
In 2019, Sika supported 148 projects (previous year: 128 projects), a year-on-year increase of 9%. The projects can be split into the following categories: social (including donations), ecological, scientific, and sports and cultural.
HELPING PEOPLE HELP THEMSELVES
The world population is rising by 165 people per minute. At the end of 2019, there were 7.75 billion people in the world, with young people accounting for 1.8 billion. Young people are the foundation for the future. In the countries in which Sika is active, its strategic focus is on helping people help themselves. Projects aimed at increasing the scope for autonomy and self-determination in the lives of individuals or communities are a key element in Sika's strategy.
BUILDING SUSTAINABLY
Through its infrastructure projects in the social domain, Sika helps disadvantaged communities across the globe create a healthy and positive living environment that allows people to develop their full potential. Among the projects that Sika has supported for many years are renovation and construction projects for orphanages, children's homes, and youth centers.
OPPORTUNITIES THROUGH EDUCATION
Attending school is far more difficult for children and young people facing poverty and deprivation. UNICEF estimates that 300 million children do not go to school at all. Sika promotes equal opportunities and supports a variety of training and education initiatives, including the establishment of school libraries in China, "Project Inspire" in Tanzania, which opens career opportunities for the younger generation, and a scheme to help reintegrate people with disabilities into the workforce in France.
SAFEGUARDING LIVING ENVIRONMENTS
Worldwide, three out of ten people live in homes with no access to clean drinking water. However, shaping your own future is only possible if safe drinking water, adequate sanitation and hygiene, and a sound environment are available. Sika's commitment in this area is structured primarily around water and renewable energy projects. The company has supported the Global Nature Fund (GNF) and its Living Lakes environmental program since 2004.
Community Engagement: Three Key Focus Areas of Project Funding
Buildings and Infrastructure
Building Sustainably
The health and dynamism of communities also depends on the infrastructure in place for people and the environment. This is where Sika comes in with its expertise and product solutions.
Education and Vocational Training
SUPPORTING EDUCATION
Investment in good education gives young people the most important tool they need to lead an independent life. Sika works  to ensure that disadvantaged children and young people get  a genuine chance in life.
Water and Climate Protection
SAFEGUARDING LIVING ENVIRONMENTS
Sika employees support projects which link social causes with  ecological interests.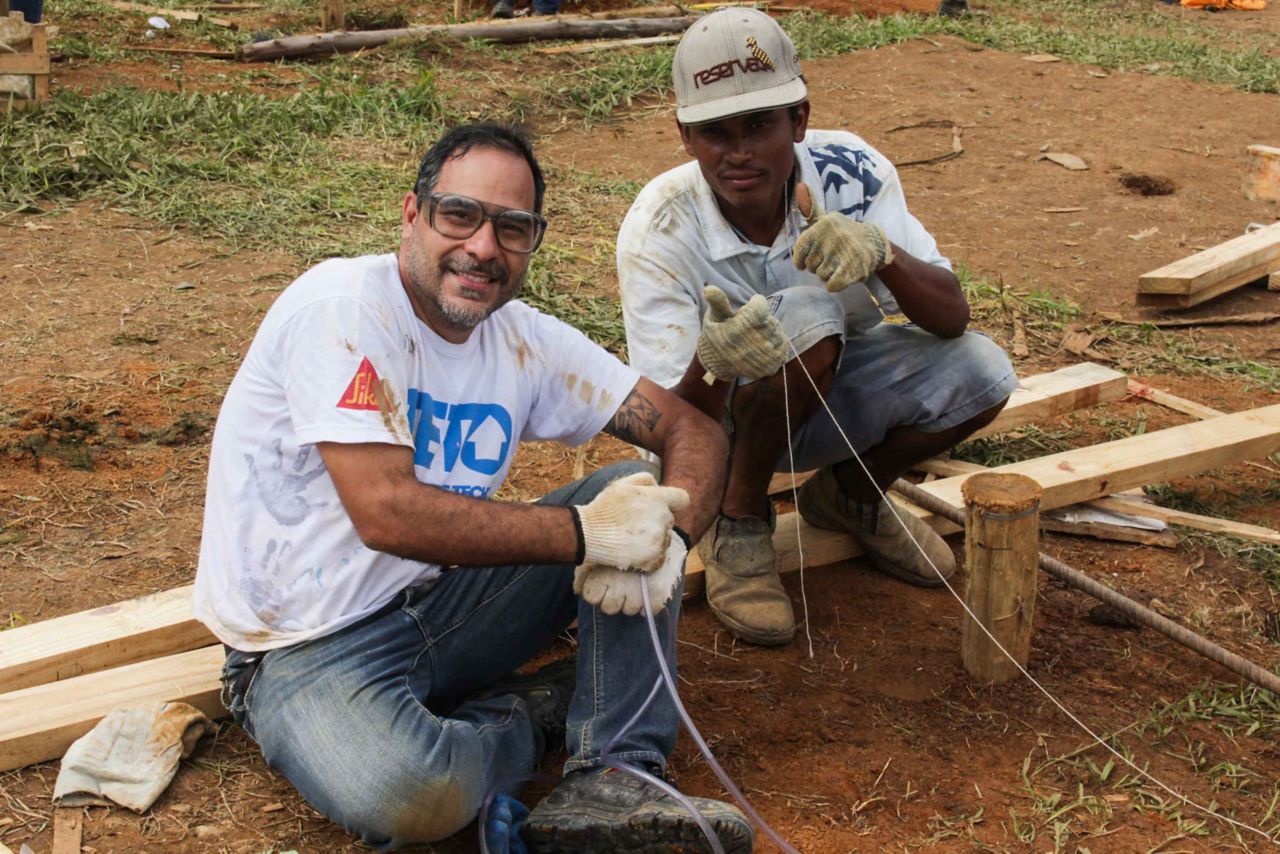 COMMUNITY ENGAGEMENT
The "Teto Project" in Brazil: Sika staff volunteering to build modular homes for underprivileged families. In 2019, more than 20 families were provided with new housing facilities.