DISCLOSURE 103-1: EXPLANATION OF THE MATERIAL TOPIC AND ITS BOUNDARY
Corruption is a phenomenon with a worldwide presence, causing economic damage and contributing to an unfavorable business environment by distorting market mechanisms and increasing the cost of doing business. The World Bank estimates that 0.5% of GDP is lost through corruption each year, impeding the economic development of developing countries.
Business integrity for decades has been at the core of Sika's corporate culture. Accordingly, Sika enjoys an excellent reputation in the market. Stakeholders all around the globe know Sika as a reliable, highly ethical partner. Sika believes that sustainable and successful business depends heavily on operating in compliance with laws and regulations. Accordingly, Sika operates a Group-wide, culturally well-established and integrated Compliance Management System (CMS), which evolves and improves year by year. The Group pursues a holistic approach to compliance and engages the whole organization throughout hierarchies, functions and geographical areas.
DISCLOSURE 103-2: THE MANAGEMENT APPROACH AND ITS COMPONENTS
Sika's management approach to prevent bribery and corruption, first and foremost, is reflected in various internal policies. At the center of Sika's regulatory anti-corruption framework are the Group's "Values and Principles", an internal guideline reflecting Sika's overall management principles and the Group's commitment to integrity, responsibility and transparency. A second core element of the Group's regulatory anti-corruption framework is Sika's "Code of Conduct", which – binding for all employees worldwide – strictly prohibits any form of active or passive bribery while providing general guidance regarding gifts, entertainment, sponsoring and donations:

https://www.sika.com/en/about-us/who-we-are/values-principles/sika-code-of-conduct.html
A third cornerstone of Sika's regulatory anti-corruption framework is the Group's "Gift & Entertainment Policy" (GEP) template, which defines minimum requirements regarding the granting and accepting of gifts, entertainment, donations or sponsoring. Each Sika entity has adopted a localized version of the GEP, thus implementing not only the overall corporate guidelines but also – to the extent necessary – particular national anti-corruption requirements. Corporate functions have adopted specific manuals (i.e., Manual of Authority, Procurement Manual) mirroring the GEP requirements.
In addition to a strong regulatory framework, Sika relies on the following components in its anti-corruption management approach:
ETHICAL LEADERSHIP VOWS
The "tone from the top" and leadership by example are of central importance in Sika's anti-corruption efforts. All Sika Senior and General Managers bi-annually are asked to commit in writing to Sika's Code of Conduct, to always act with integrity and never to engage in bribery or corruption. In particular, they promise to report and escalate serious violations or well-founded concerns related to bribery or corruption to their superior and/or the Area Manager, the Regional Manager or Corporate Compliance, to make sure that suspected misconduct receives proper and timely follow-up, and that employees who report suspected misconduct in good faith are not subject to retaliation. General Managers are encouraged to seek the same kind of "Compliance Commitment" from each member of their local management team. In addition, each General Manager is requested to submit, on an annual basis, a "GRI Compliance Confirmation", which reaffirms that local staff throughout the year has received adequate anti-corruption training.
GLOBAL COMPLIANCE ORGANIZATION
At Sika, a decentralized matrix organization is administering Sika's CMS and thus also coordinating most anti-corruption initiatives. The members of this cross-functional team represent the Global Compliance Organization, which is the backbone of Sika's compliance function. Roughly five full-time compliance managers form the Corporate Compliance team, operating out of Sika's HQ. As far as anti-corruption activities are concerned, they are supported by roughly twenty employees all around the globe who hold part-time responsibilities for compliance tasks.
TARGETED TRAINING INITIATIVES
Members of the Global Compliance Organization conduct regular compliance trainings with specific risk groups. In the context of anti-corruption, Sika's Senior and General Managers, together with all sales, procurement, finance and R&D employees, are invited regularly to participate in such anti-corruption trainings. The targeted trainings are delivered either face-to-face or online (via virtual workshops or focused e-learnings).
STRINGENT COST CODING & CONTROLLING
Internal regulations including the Gift & Entertainment Policy and the Controller Manual require all Sika entities and functions to record transparently in the respective financial records any gift, entertainment, donation and sponsoring expense made in favor of a third party. Third party expenses thus are monitored very closely. The Corporate Compliance Team, in close cooperation with Corporate Controlling and Internal Audit, discuss identified unusual or noticeable expense patterns quarterly. Where deemed necessary, they follow up with targeted audits.   
SPEAK-UP CULTURE & REPORTING SYSTEM
Sika's Code of Conduct requests every employee to speak up and report observed misconduct, including any act potentially representing bribery or corruption. The same reporting requirement is anchored in Sika's contracts with third parties and its Supplier Code of Conduct. Employees and third parties may report potential violations of Sika's anti-corruption guidelines either via line management or via Global Compliance Organization. Furthermore, employees have at their disposal an online whistleblowing channel called "Sika Trust Line", which also allows for anonymous reporting.
THIRD PARTY DUE DILIGENCE & MONITORING
Sika implements its strong anti-corruption stance across the entire supply chain. Its "Supplier Code of Conduct" prohibits any act of bribery or corruption, while stating that such acts, if identified, will lead to the immediate termination of cooperation. Every supplier is required to commit to Sika's Supplier Code of Conduct or to demonstrate that it has implemented similar internal rules, reflecting a zero-tolerance policy regarding bribery or corruption, see https://www.sika.com/en/about-us/who-we-are/procurement/sourcing-governance.html. Corporate Procurement on a regular basis reviews supplier performance, thus monitoring whether Sika's business partners indeed comply with the Group's strict anti-corruption requirements. Business contracts with suppliers accused of engaging in bribery or corruption are terminated with immediate effect, unless the supplier is able to demonstrate that it has in place a compliance management system that aims at effectively preventing acts of bribery or corruption.
Specific Actions
Re-Launch of Compliance Commitment in 2021: Sika Senior and General Managers were asked most recently in December 2019 to renew their "Compliance Commitment" for the calendar years 2020 and 2021. Accordingly, Corporate Compliance will launch the next Compliance Commitment campaign in December 2021, for the calendar years 2022 and 2023.
Renewal of GRI Compliance Confirmation: For the first time, Sika collected the "GRI Compliance Confirmation" for the calendar year 2020 digitally. With a response rate of 100%, 126 General Managers confirmed that no accusations of bribery or corruption were brought against Sika in their country of operation. The GRI Compliance Confirmation defines corruption as follows: "The abuse of entrusted power for private gain. Corruption includes practices such as bribery, facilitation payments, fraud, extortion, collusion, and money laundering. It also includes the offer to any person or receipt by any person of any gift, loan, fee, reward, or other advantage to or from any person as an inducement to do something that is dishonest, illegal, or a breach of trust in the conduct of the enterprise's business."
Strengthened Global Compliance Organization: In 2020, Sika further strengthened its Global Compliance Organization. At corporate level, a Junior Compliance Manager (previously working as Legal Trainee) and a Compliance Manager (previously working as Internal Auditor and Area Controller Africa) started in January and March, respectively. In January 2021, a Junior Compliance Associate joined the team part-time. As of March 2021, 4.4 FTE will be fully assigned to the Corporate Compliance Team (2020: 3.6 FTE). At the area and country level, one lawyer (previously at Parex) joined Sika China's compliance team, while two newly hired lawyers started providing part-time compliance support in Central America and Brazil, respectively. In January 2021, a lawyer was hired to replace the local compliance officer in France, who retired.
New Anti-Corruption e-Learning: In 2020, Corporate Compliance designed a new e-learning about anti-corruption and conflict of interests. The e-learning will be embedded in a broader campaign about culture, leadership, diversity and integrity. This group-wide campaign, co-sponsored by Corporate HR with the support of Corporate Communications and an external agency, will be launched in Q1 2021. It is based on a so-called "microlearning" approach and will run throughout the entire year 2021. Campaign materials, including the anti-corruption e-learning, posters, testimonials, videos, games and online newsletters, will be translated into a dozen languages. While the overall campaign aims at reaching all of Sika's nearly 25'000 employees, the e-learning about anti-corruption and conflict of interests is targeting only the group of Sika employees chiefly exposed to corruption risks, including all Sika Senior and General Managers, their management teams, as well as all members of the Sales, Procurement and R&D functions.
Tightened Third Party Due Diligence and Monitoring: Sika's Supplier Code of Conduct requests suppliers to respect Sika's zero-tolerance policy regarding bribery and corruption. Suppliers are required to have systems in place that assure the proper instruction, training and auditing of their personnel and subcontractors to ensure compliance with Sika's anti-corruption requirements across the entire supply chain. Sika performs supplier audits and evaluations to monitor and assess overall compliance with its Supplier Code of Conduct. Further, suppliers are obliged to immediately inform Sika of any known violation of its Supplier Code of Conduct.  

In an effort to better monitor and certify compliance with anti-corruption and other corporate social responsibility (CSR) requirements, Sika in February 2020 successfully joined the "Together for Sustainability" (TfS) initiative
DISCLOSURE 103-3: EVALUATION OF THE MANAGEMENT APPROACH
Sika evaluates its management approach through:
Monitoring: Sika investigates reported cases of corruption on the basis of a defined incident response process. Confirmed cases usually lead to sanctions against involved employees and other corrective measures as deemed necessary and suitable to strengthen Sika's CMS. Corporate Compliance keeps track of all investigated cases and reports substantiated cases annually to the Group's Executive Board, the Audit Committee of the Board of Directors and to the external auditors.
Evaluation of Audit Findings: The findings of Group Audits are recorded in a central management tool and systematically analyzed to identify root causes and monitor the implementation of improvement measures.
Investigations: Corporate Compliance and Internal Audit collaborate closely in their effort to detect bribery, corruption or fraud. Corporate Compliance usually takes the lead investigating reports of alleged bribery, corruption or fraud inside Sika. All bribery, corruption or fraud reports have to be escalated to the Group Compliance Officer, irrespective of who reports them or where they occurred. In addition, Internal Audit may identify fraudulent or corrupt practices while conducting a regular audit. If this is the case, Internal Audit also informs Corporate Compliance and the Group Compliance Officer, who in turn records IA-detected corruption or fraud incident in the Group's case recording system and issues sanctioning and improvement recommendations to the concerned line management.

Reporting: Corporate Compliance, and more particularly the Group Compliance Officer, regularly reports substantiated corruption and fraud cases to the Audit Committee of the Board of Directors, the Group Management and the external auditors, informing them also about identified root causes and the corrective measures that the concerned line management has implemented.
Briefings for General Managers: Periodically, Corporate Compliance informs Sika's General Managers about detected cases of bribery, corruption or fraud, thus refreshing their memories about Sika's strict, global anti-corruption policy and their responsibility to implement it locally. 
 
The management approach has been reviewed and has proven to be effective.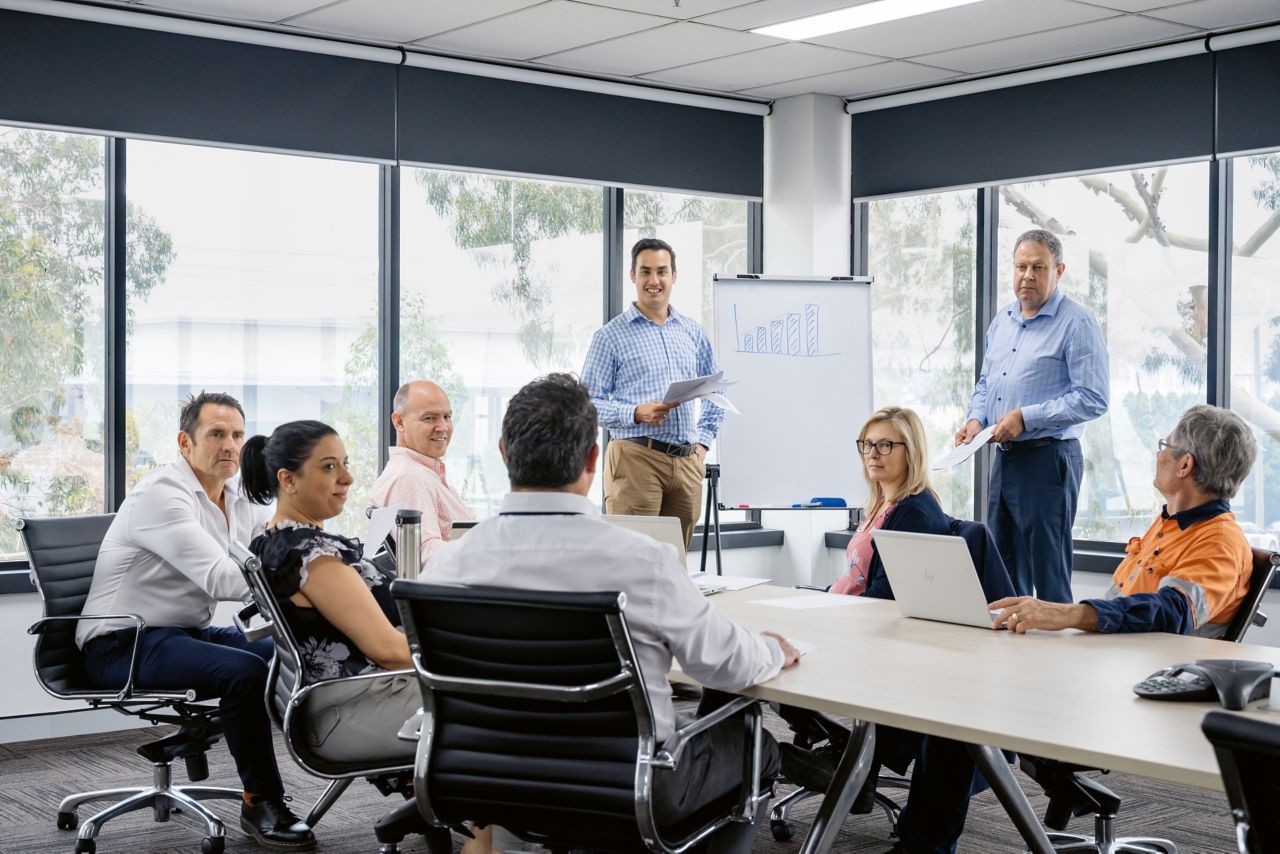 MANAGEMENT COMPETENCE
Sika Australia: A highly motivated team with expertise on all processes was the basis for a successful implementation of an Operational Efficiency enhancement program.