All around the world, Sika's solutions are helping raise building standards in fast-growing urban areas. More importantly: they make living together in increasingly dense areas in numerous different ways possible. Top-quality products for construction, civil engineering, infrastructure projects, and vehicle manufacturing are only one part of the Sika solution. Innovations, technical advice, and training both before and during the construction phase as well as the focus on people-, environment-, and budget-friendly applications – that is what stands out about Sika. Finally, it's all down to Sika's dedicated employees who work with customers to seek the best possible solutions each and every day. Let them tell you how.
The Sika Teams in Denmark Work on Urban Transport of the Future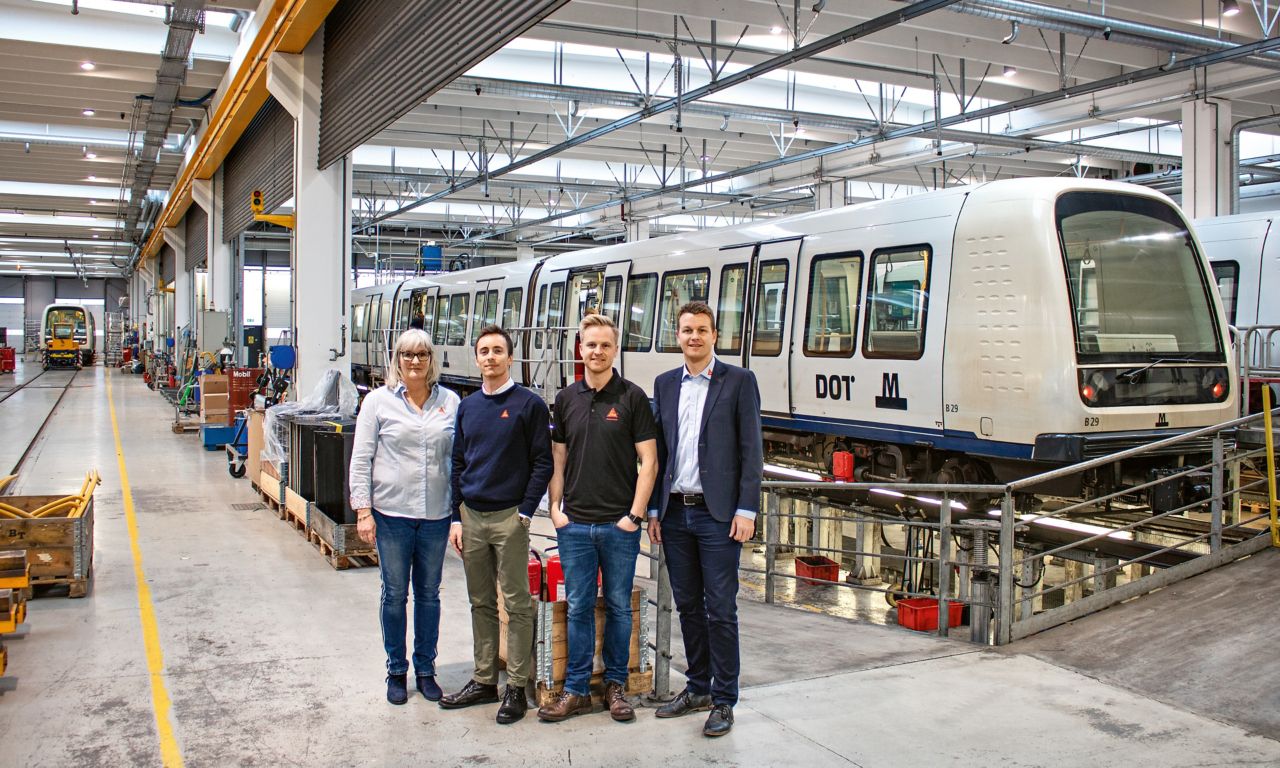 Sika Denmark – Team Industry

With our knowledge and solutions we support and collaborate with our customers on a long-term basis. Not only do we supply the rail vehicle manufacturer in the production phase of the driverless trains, we are also active in the maintenance work by supporting the replacement of the glass windows when needed.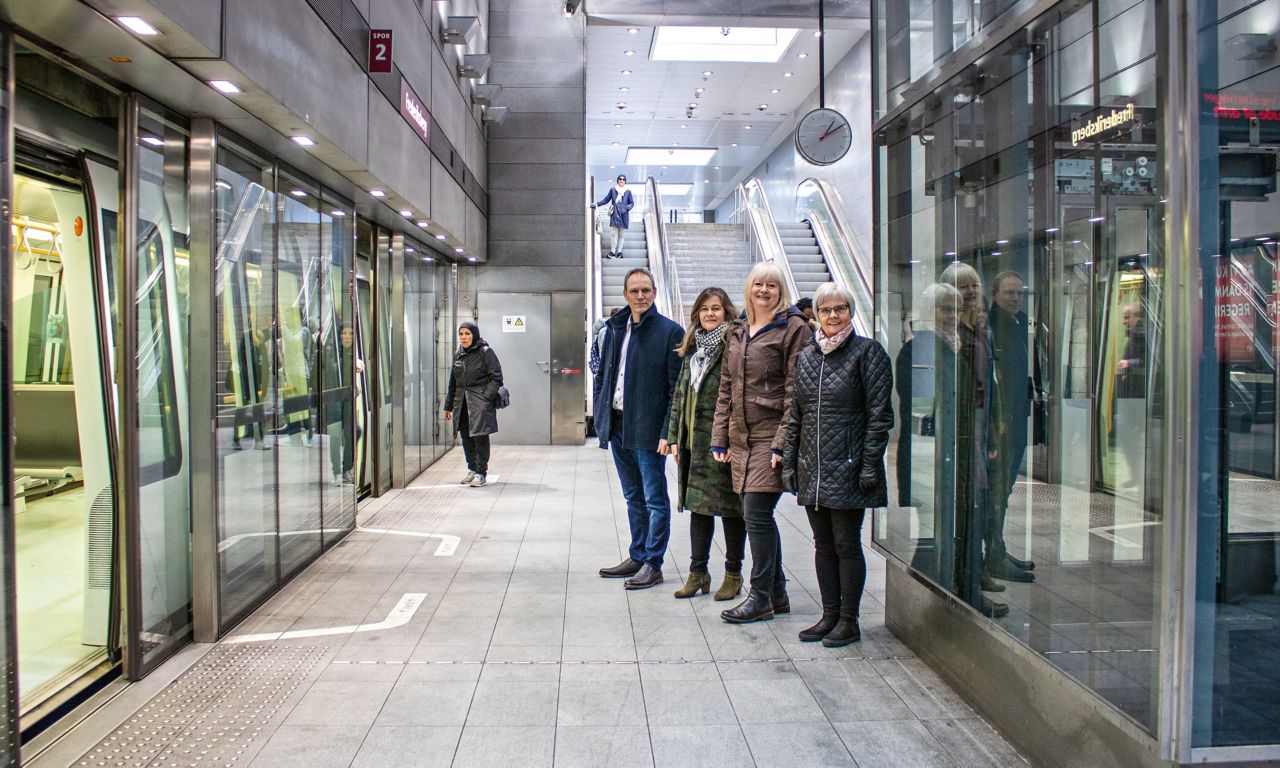 Sika Denmark – Team Concrete and Waterproofing

We are proud to offer our expertise and solutions to a project that supports urban development and population growth in Copenhagen. The driverless metro system, which will be extended in 2019, gets you to the airport in less than 15 minutes. We help make this a reality by supporting the construction of the stations.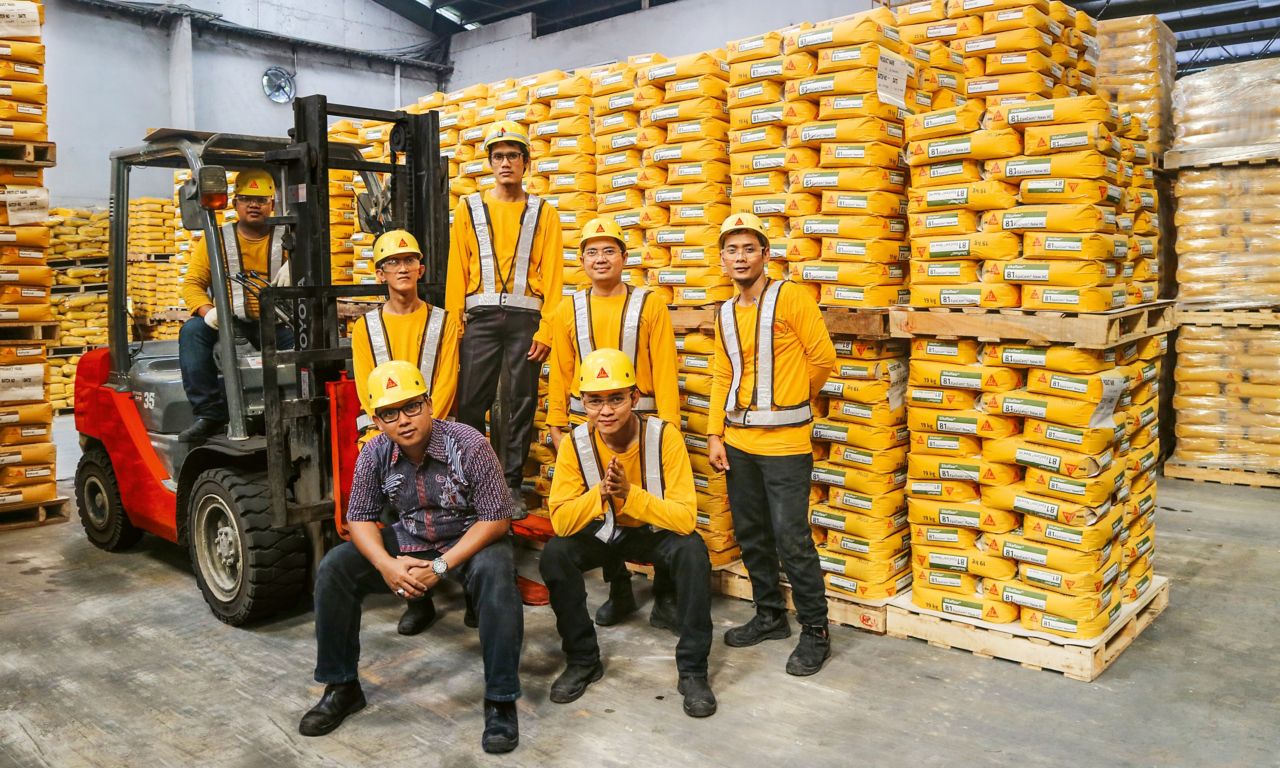 Sika Indonesia – Team Logistics
As a growing economy, Indonesia is seeing an increasing amount of high-rise developments and a growing need for infrastructure. With our local supply chain and technical expertise we work together with our customers to realize such large projects.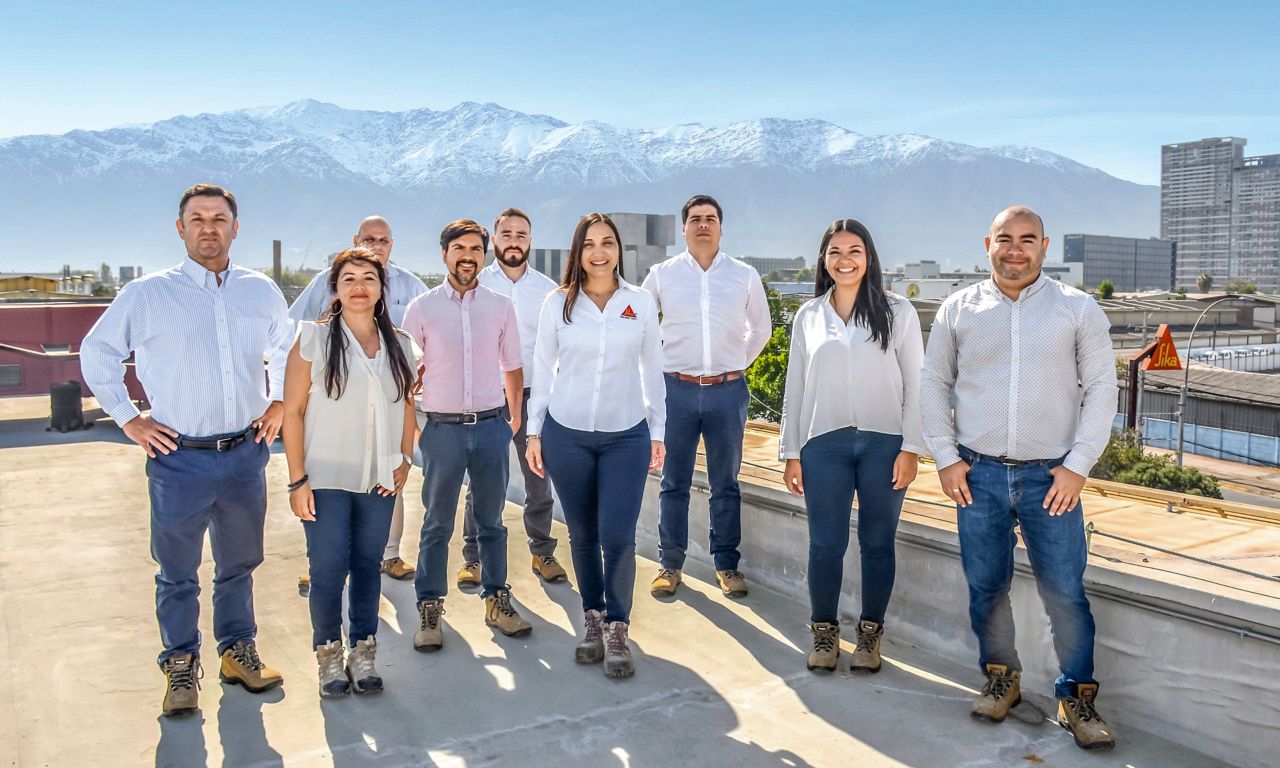 Sika Chile – Team Construction
Sika opened its first office in Chile in 1942. Since then Sika has been involved in numerous construction projects which have helped shape the development of Chile. By understanding the needs and demands of our society and by listening to our customers, we will continue to develop technologies and solutions to meet rising requirements and future challenges.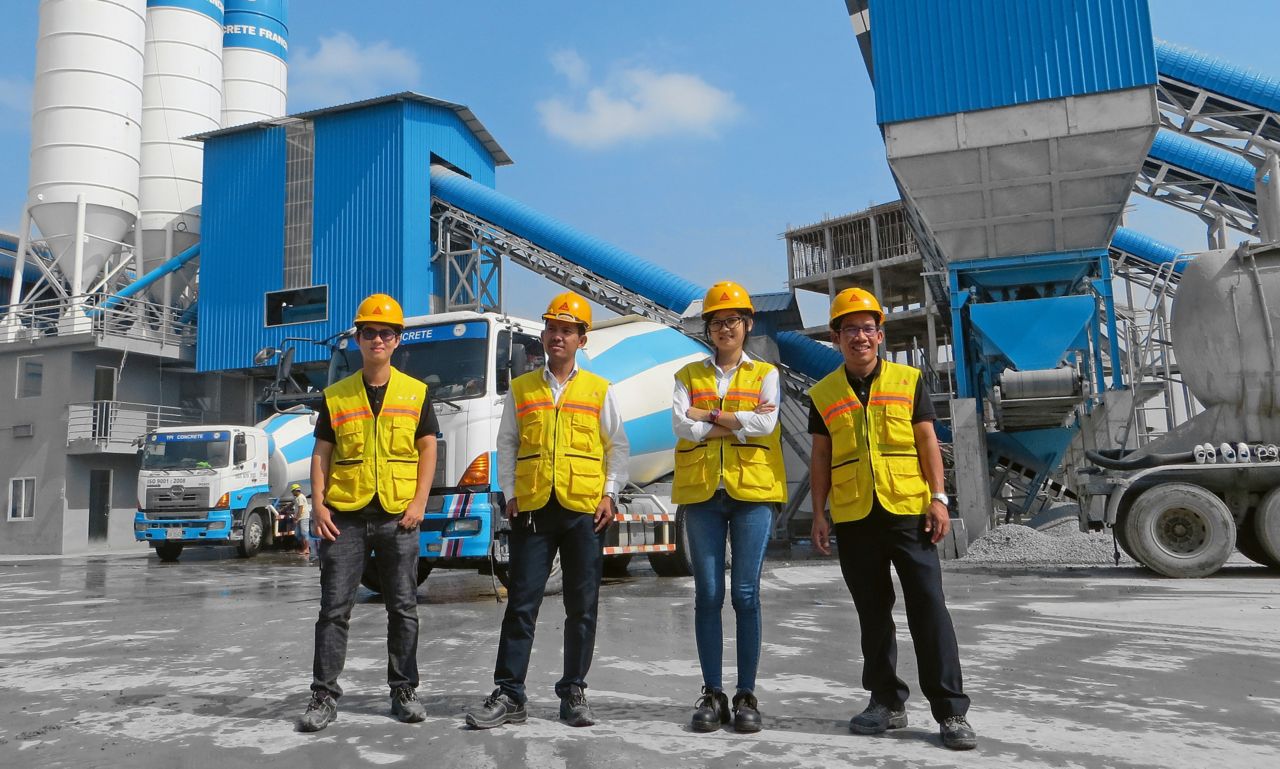 Sika Cambodia – Team Sales, Quality Control, and Concrete Laboratory
As a pioneer in the Cambodian market, Sika supplies the full range of products to meet the requirements posed by urbanization. With the expansion of our production capacity, we intend to meet the increasing demand of more than 3,000 ongoing projects.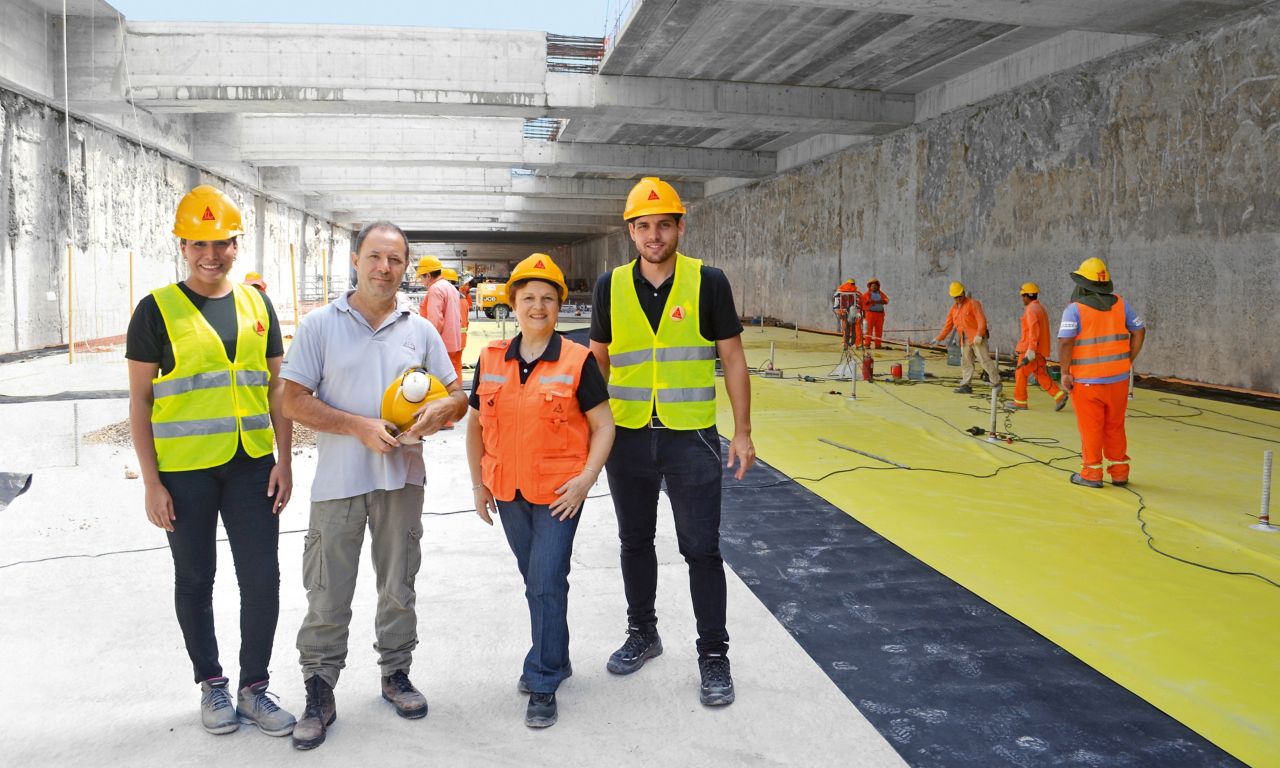 Sika Argentina – Team Waterproofing
Our team is focused on participating in every stage of major infrastructure projects. Starting with strong specification selling, designing solutions that meet waterproofing requirements, as well as extending the durability of the structures. One of the most prominent projects supplied by us is Paseo del Bajo, a 7 km underground highway that will connect the north with the south of Buenos Aires.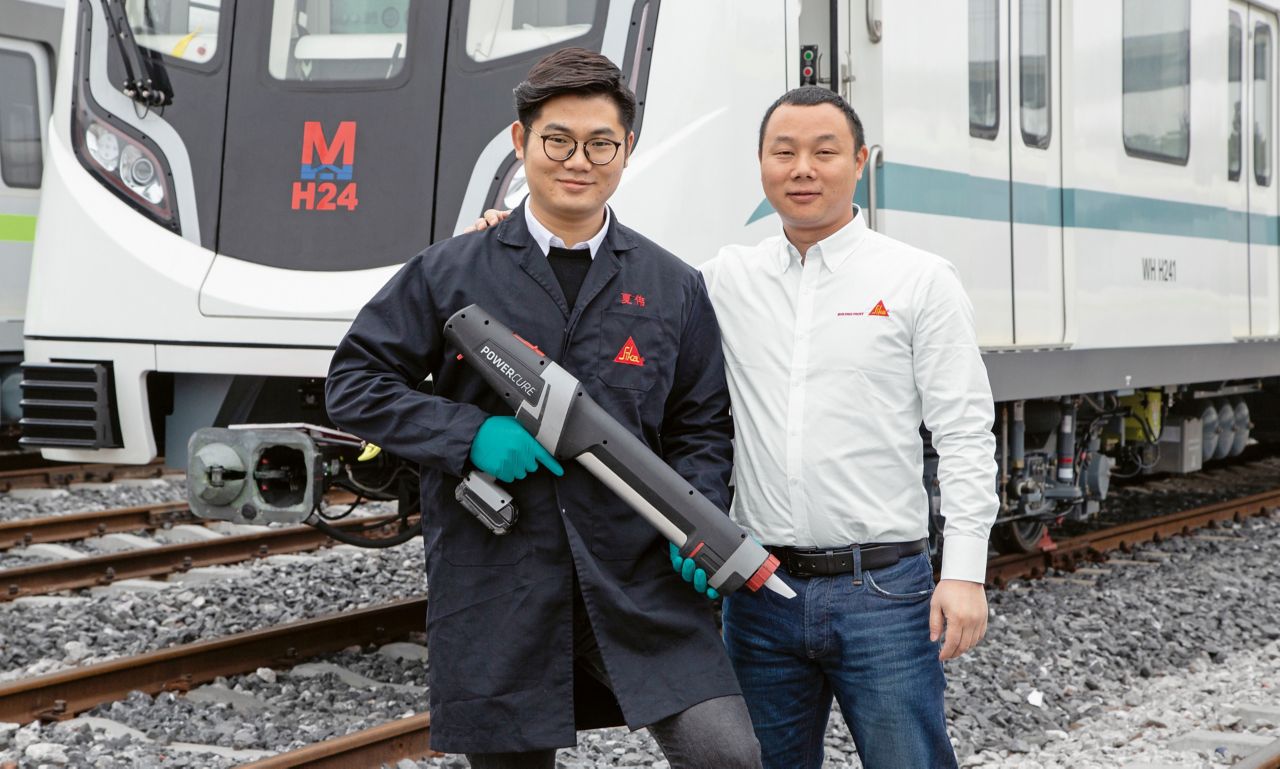 Sika China – Team Industry
The demand for public transportation in China has increased significantly in the past few years. With high-performance sealing, bonding, damping, and fire-proofing solutions, we gain the trust of our customers and successfully supply 50% of the China railway market.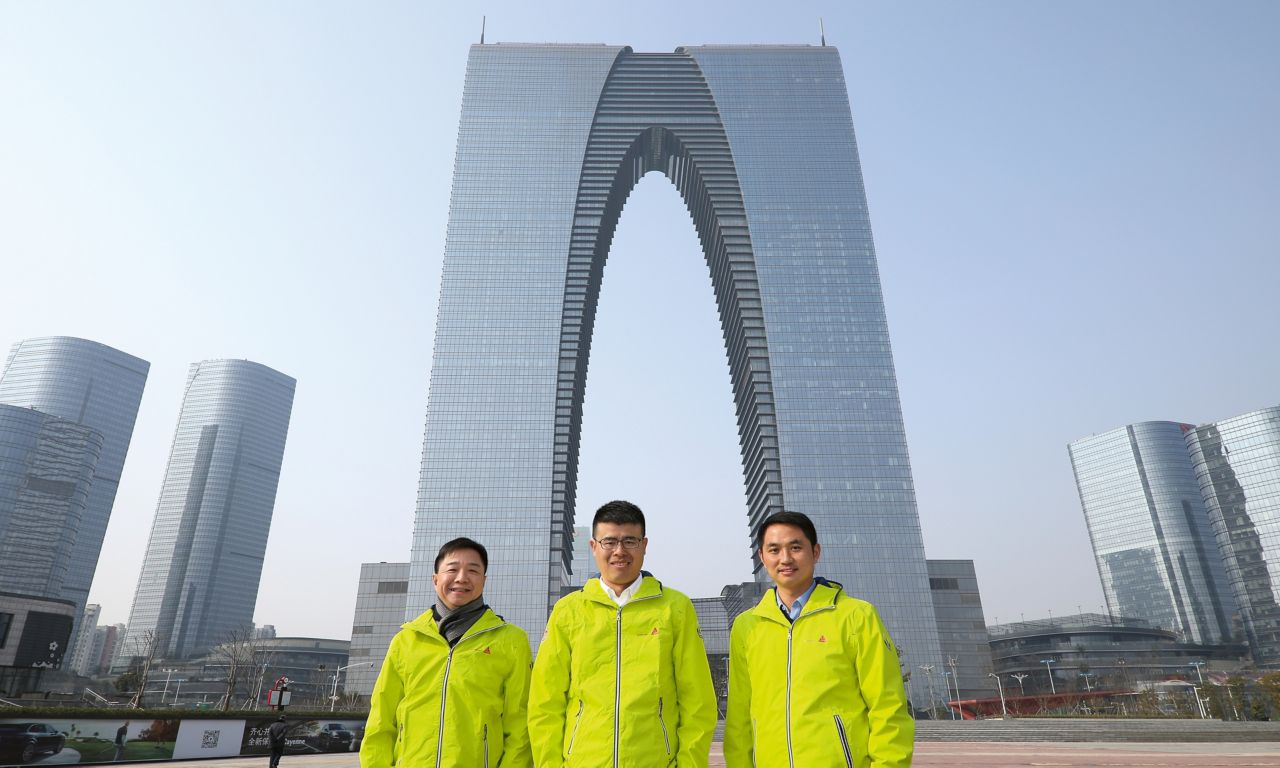 Sika China – Project Team Suzhou Center
Suzhou Central Plaza is the largest urban complex in China with two metro lines, several buildings, a total construction area of 1.82 million m2, and total investment of around CHF 4.4 billion. We are working closely with our customers to provide concrete admixtures, car park flooring systems, and liquid waterproofing membranes for this project.
Sika Corporate Teams with Innovation for Below-Ground Waterproofing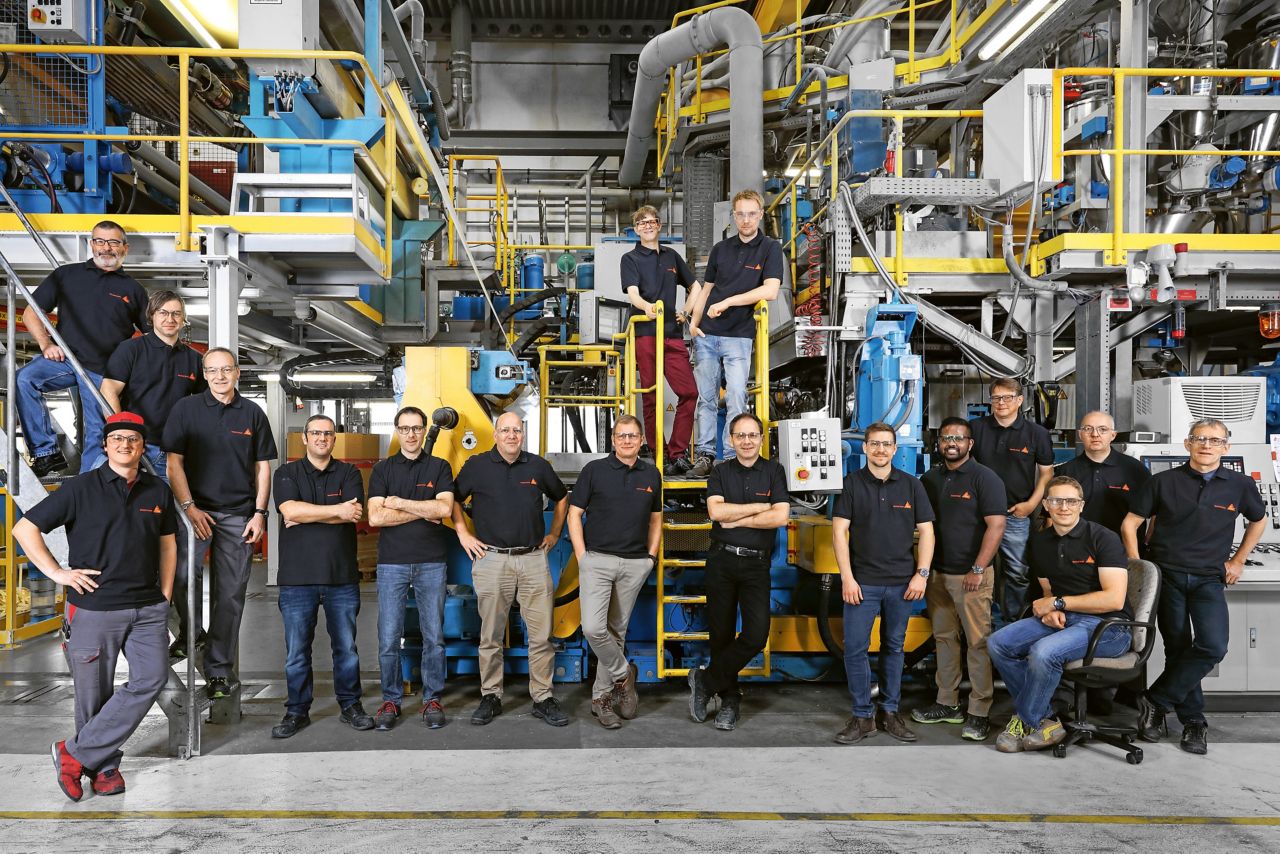 Sika Team Corporate R&D and Operations
We have combined different technologies and developed a new, fully bonded membrane system for basements: SikaProofR A+. Since space is limited in urban areas, more and more living environments are moving underground. Such environments are becoming areas where people work, live, and spend their leisure time. Thanks to SikaProofR A+, there is now a new solution for these new challenges.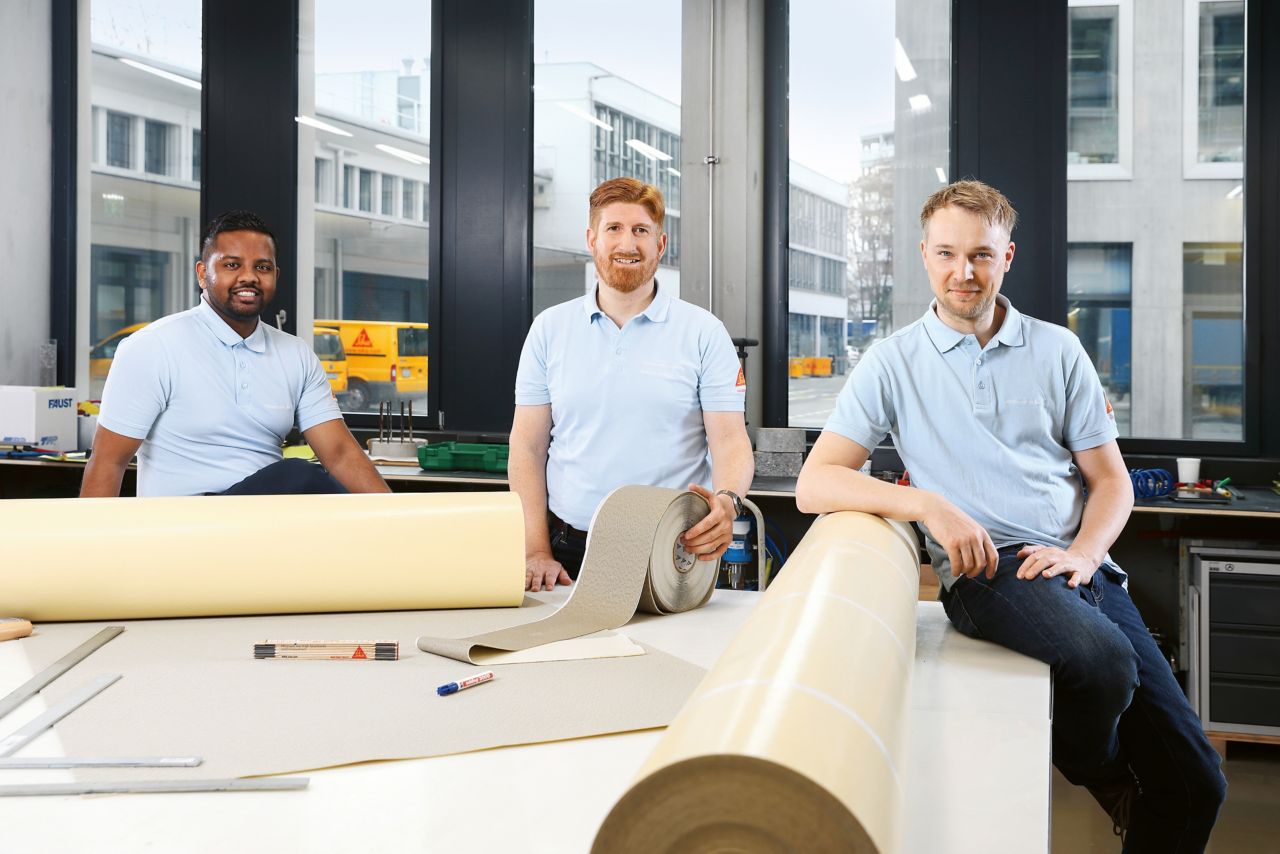 Sika Team Corporate Waterproofing
In 2018, SikaProofR A+ was successfully tested for launch in 2019. Against the background of increased urbanization, quality requirements for dry basements and below-ground structures are rising. The SikaProofR A+ system protects any concrete structure against gas, water, and chemical ingress, and therefore significantly increases its durability. The robustness of the membrane enables simple, flexible installation in all climates and longlasting quality.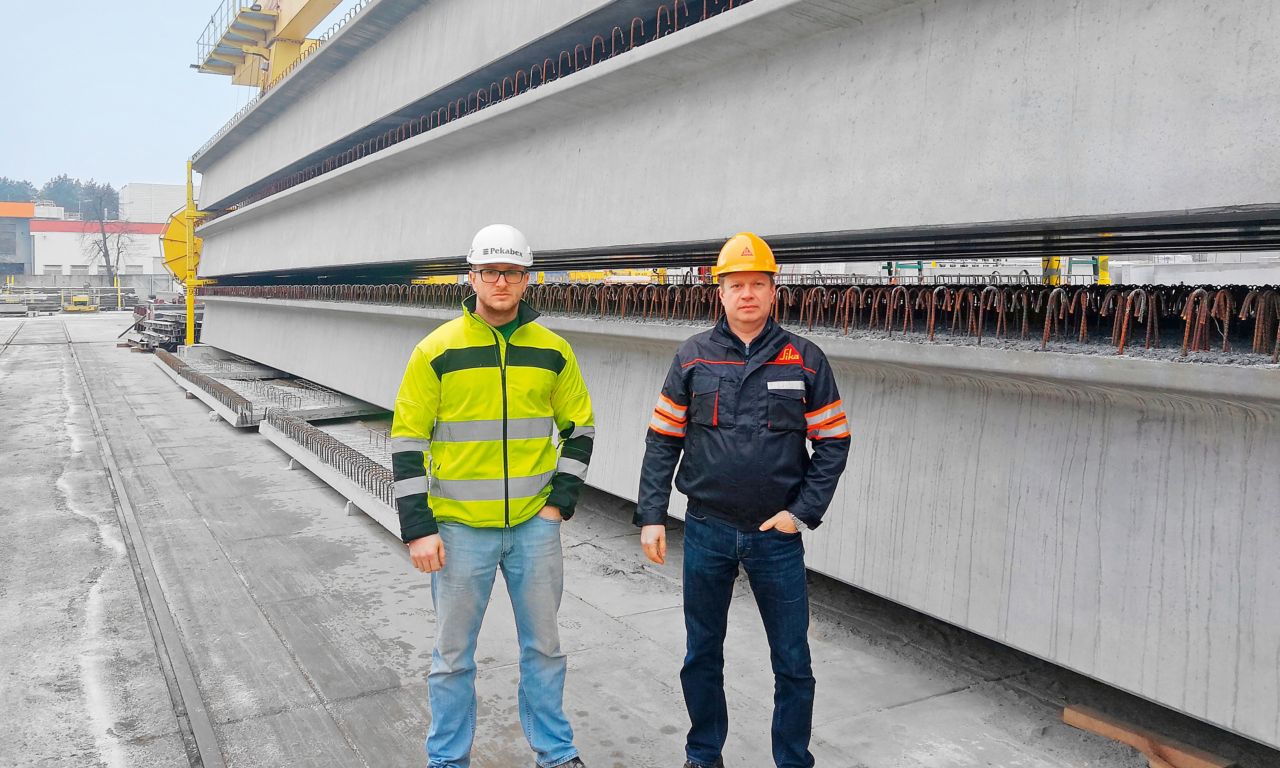 Sika Poland – Deputy of Target Market Manager Concrete with Customer
For more than two decades we have been working successfully with the leading pre-cast producer "Pekabex". The cooperation is based on long-term experience and understanding of customer needs. Our newest and innovative solutions accelerate the implementation of the most complex projects, making collaboration with our customer a real pleasure. That's what we call building trust!  
Sika Peru – Team Operations
In 2018 we opened a new plant for the production of concrete admixtures, mortar products, and acrylic liquid applied membranes in Peru, tripling our production capacity. We are now ready and fully committed to meet the rising demands of the city of Lima, with its population of 10 million.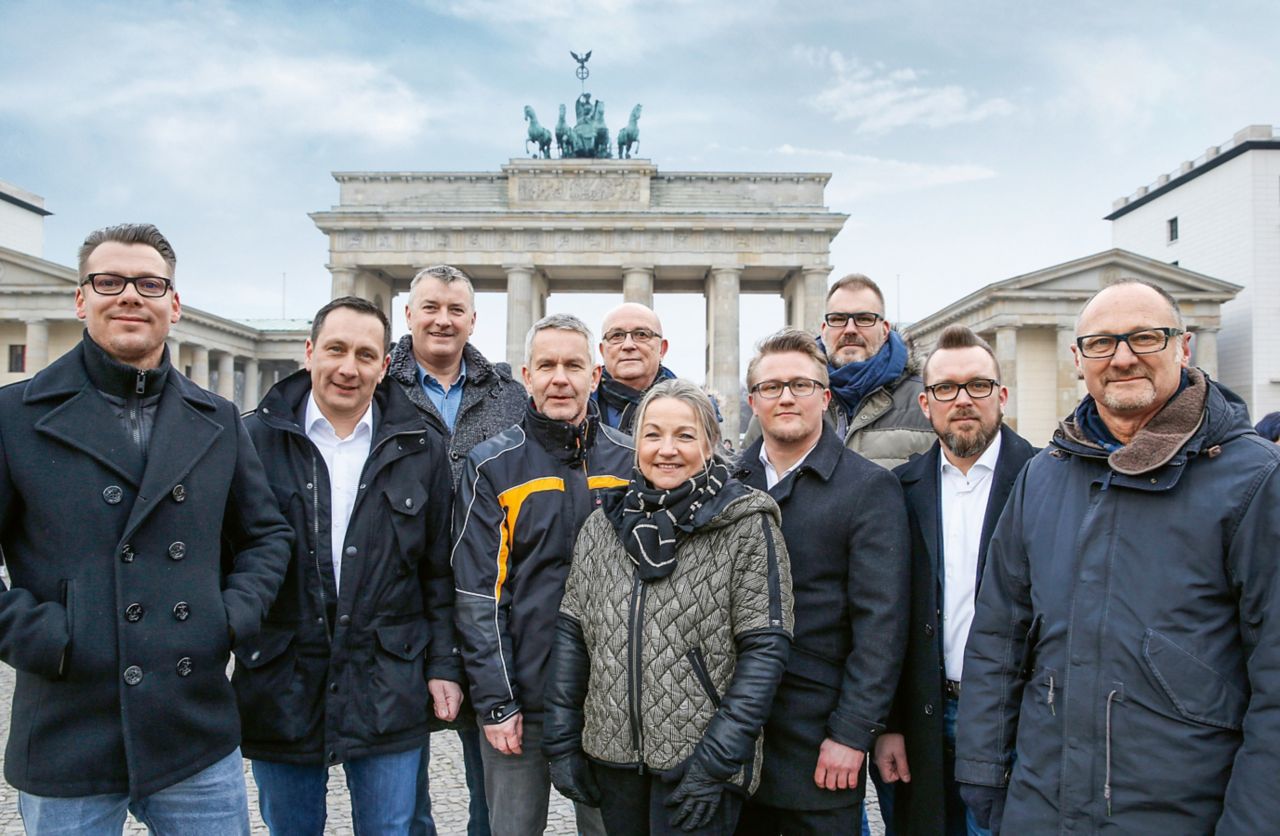 Sika Germany – Team Sales
Berlin is the largest city in Germany. The Berlin sales representatives of all construction target markets meet regularly to increase collaboration. One of our goals is to improve the knowledge of specifiers when it comes to our huge range of solutions. To reach that goal Sika Germany has organized an event with the theme "Berlin baut" – Berlin is building. During the event 200 planners were trained on the different solutions Sika has to offer for renovations and new constructions.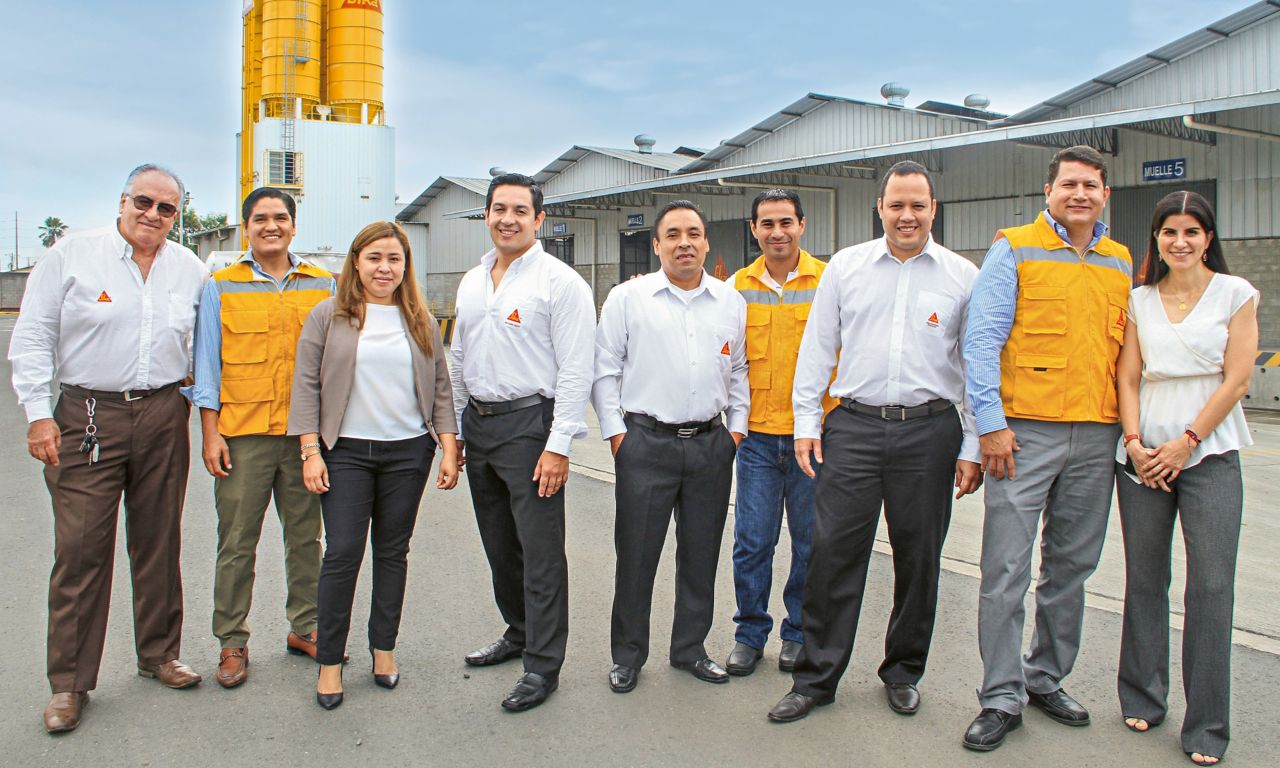 Sika Ecuador – General Manager with Team
Urban development and migration from rural areas to large cities have increased the demand for developments such as housing, roads, tunnels, recreational areas, etc. This in turn increases the demand for our products in the market. Sika is a benchmark in the construction sector in our country; it has grown hand in hand with the big cities and their development.
Sika Hungary – Team Kam, Technical Support, Sales, Marketing
The real power lies in cross-functional teams. Here in Hungary employees from different departments such as Key Account Management, Technical Support, Sales, and Marketing work together on an increasing amount of urbanization projects. We can grow our business when we speak the same "Sika language".
Sika Egypt – Team Concrete and Waterproofing
The construction of Rod-Al-Farag Bridge, considered to be one of the widest bridges in the world, is challenging as it is located in one of the most crowded and densely populated areas of Cairo. With our new technologies and solutions we successfully contributed to the realization of the project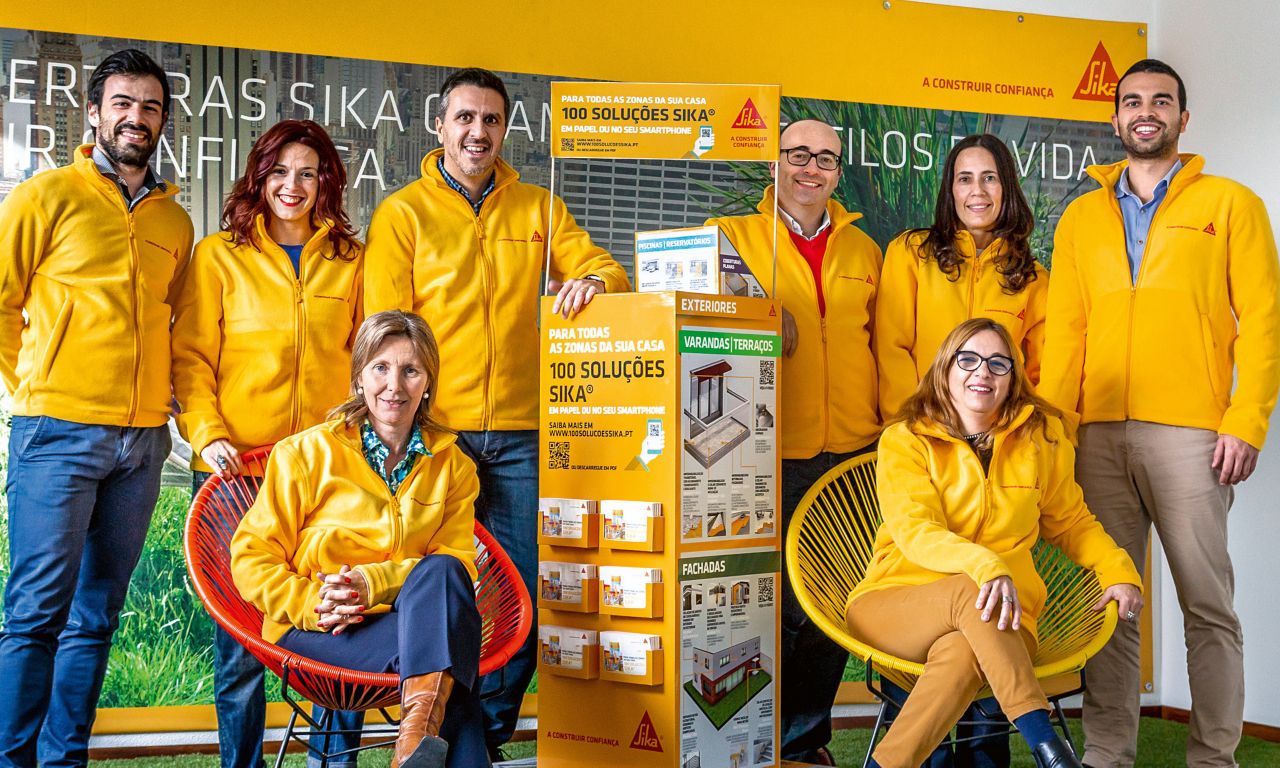 Sika Portugal – Team HR, KAM, Help Desk, Flooring, Business Development, Finance
In a world where building standards and quality requirements are constantly rising, we strive for innovative solutions for growing cities and support our customers on a daily basis in order to exceed their expectations.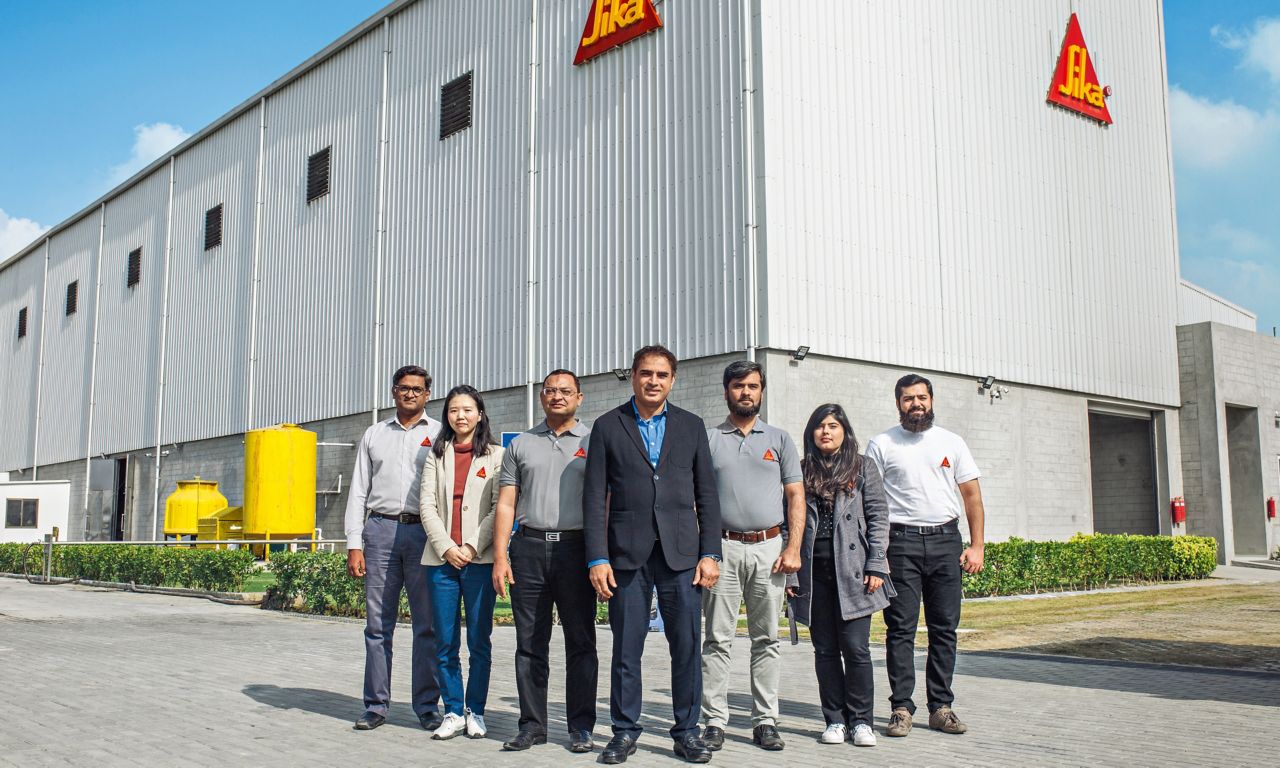 Sika Pakistan – General Manager with Team Sales, Marketing and Finance
Lahore is the second-largest urban center in Pakistan with an estimated population of 10 million. Due to continuous population growth the Orange Line Metro Rapid Transit (MRT) was developed to meet the predicted passenger demand across the city. We have played an integral part in this large project by fulfilling needs with a wide range of Sika products.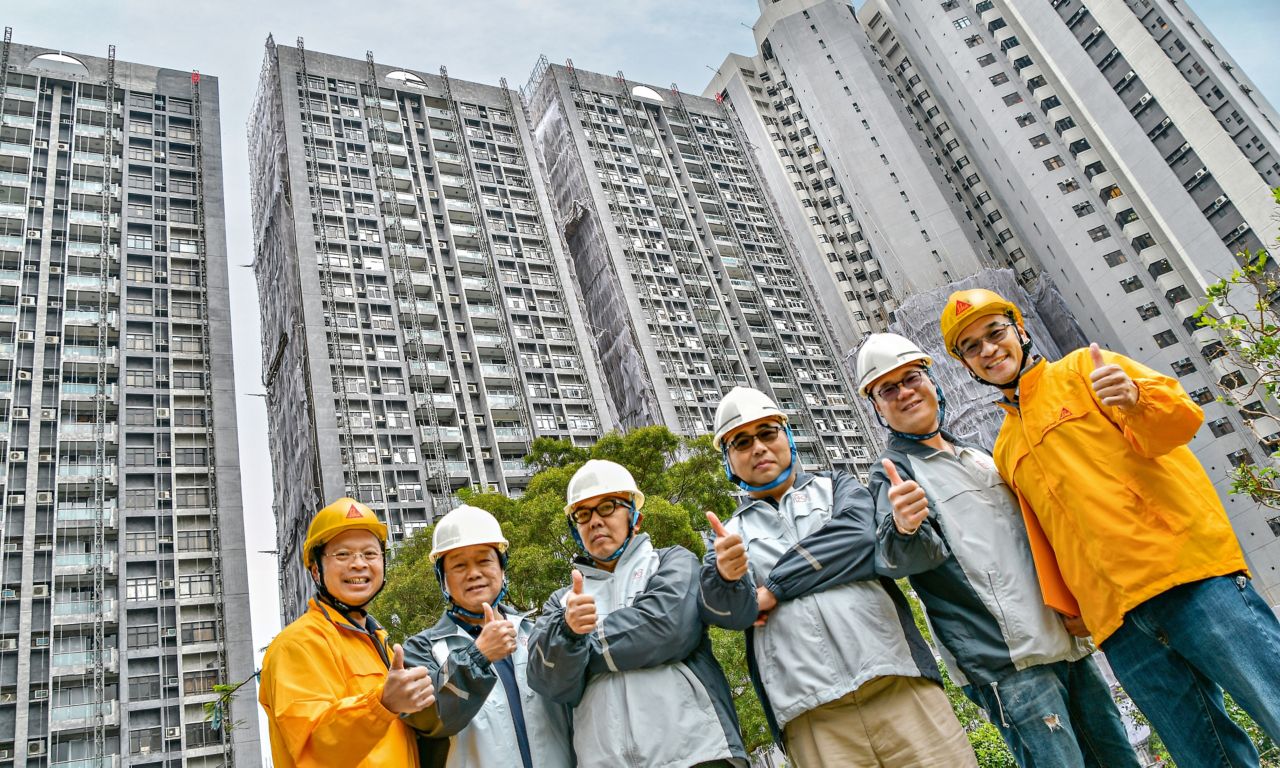 Sika Hong Kong – Team Refurbishment
We, as sales and technical service professionals, are proud to help our customers face the challenges of external facade refurbishments with strong product knowledge and site support.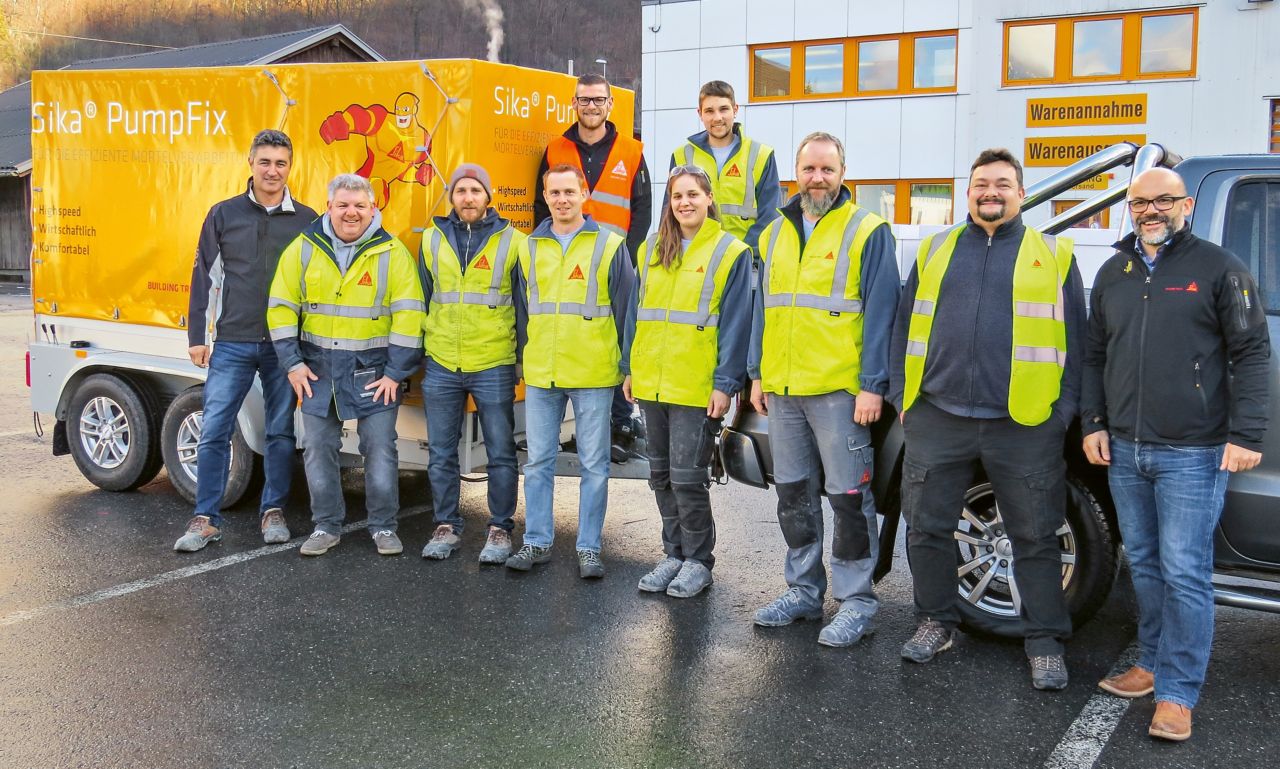 Sika Austria – Project Team
Buildings and infrastructure in cities are in continuous need of repair and refurbishment. We are currently developing a special pump that transports mortars at a rate of five tons per hour, compared to one ton per hour with the traditional method, and to a height of 80 m. We are helping our customers to increase the efficiency of their refurbishment projects.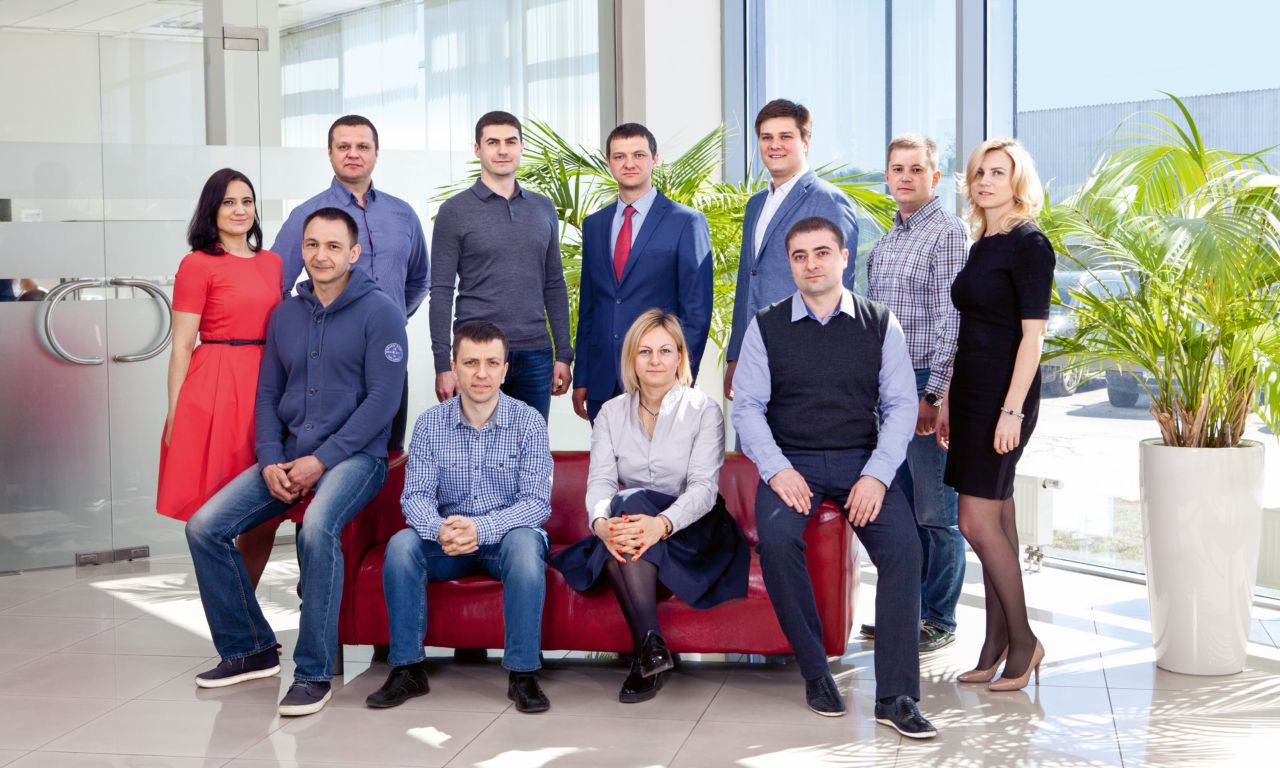 Sika Russia – Team Flooring, Refurbishment, Concrete
We are proud to work for a company that emphasizes employee development in accordance with professional qualifications and personal capacities. Each employee knows that success is a question of solid teamwork and having the right strategy in order to benefit from important megatrends such as urbanization.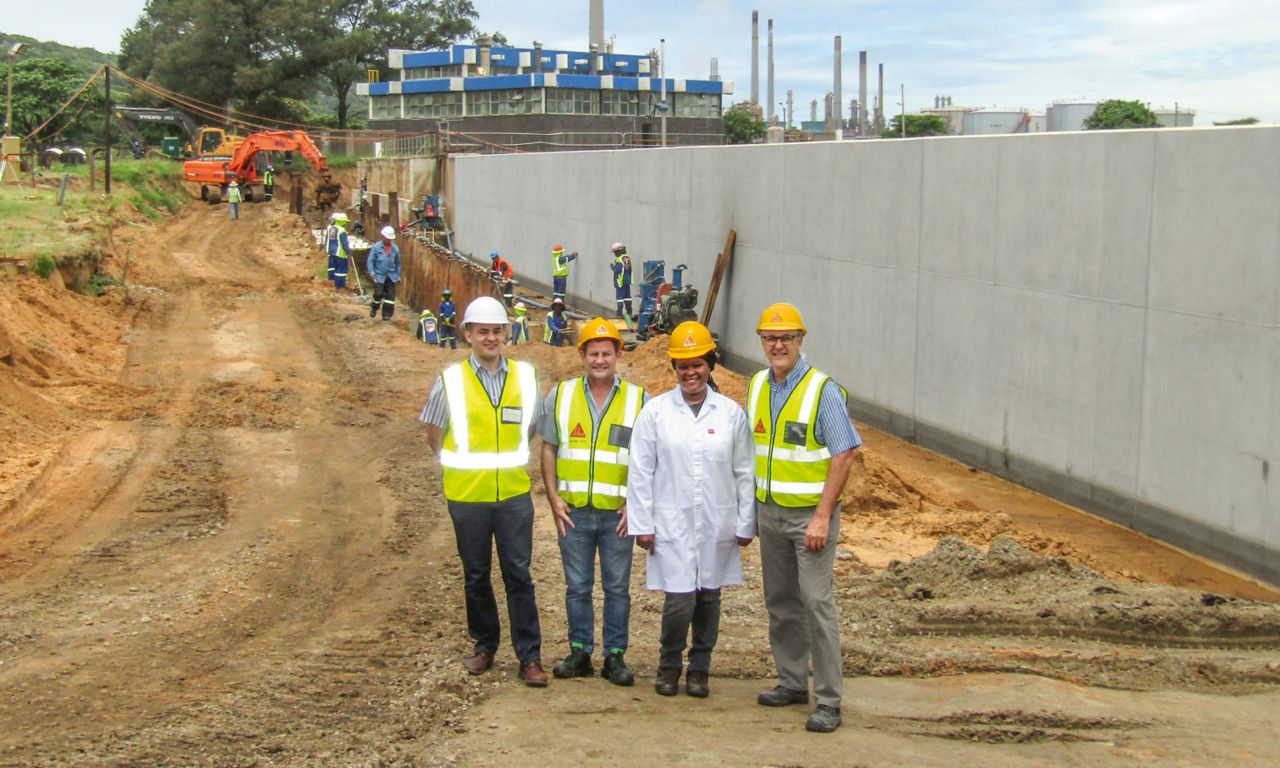 Team Technical Sales, R&D with Customer
Our team has been aiding the refurbishment of the South Waste Water Treatment Works in Durban by providing technical advice and adapting solutions to solve the challenges that arise. We strive to create close partnerships with responsible engineers and our experienced employees.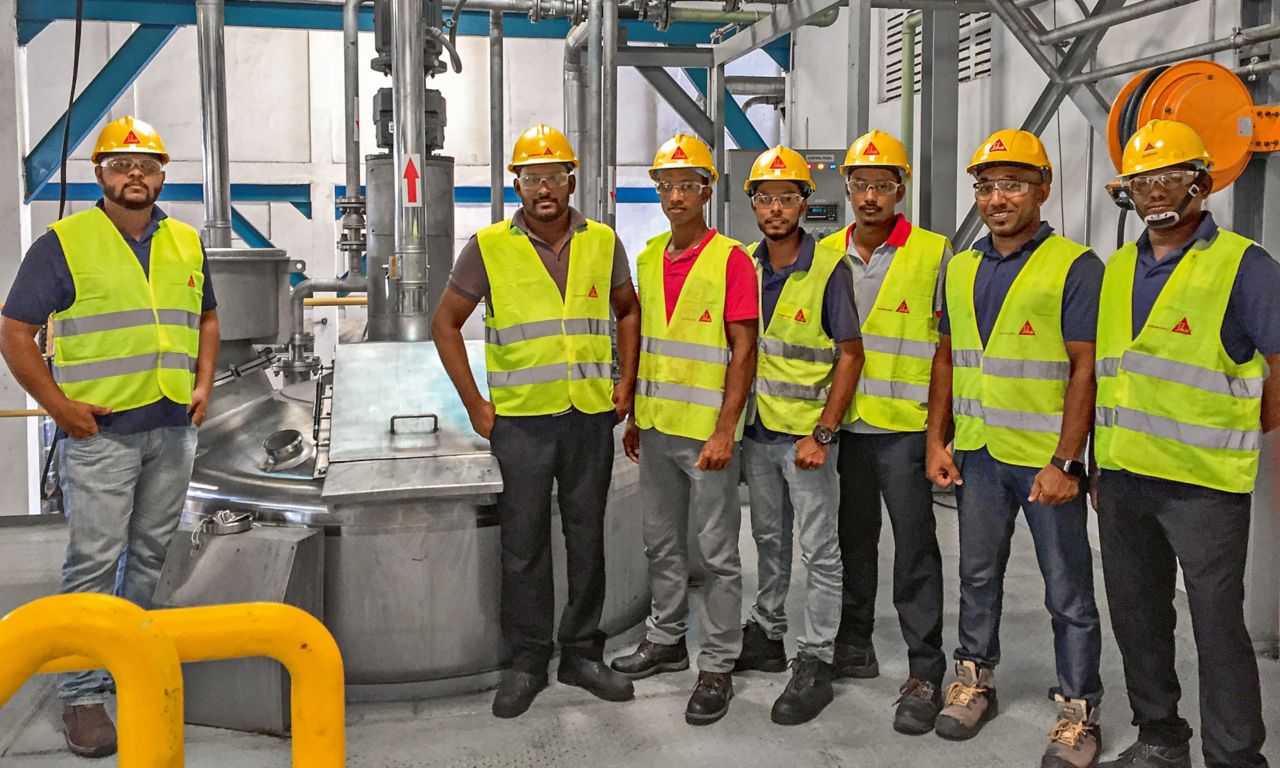 Sika Sri Lanka – Team Production
With our local production and expertise, we support our customers with many large-scale projects in Sri Lanka. Whether it be a more than 200-meter high mixed development in Colombo where we provide continuously pumped concrete or solutions for several highways connecting different parts of Sri Lanka.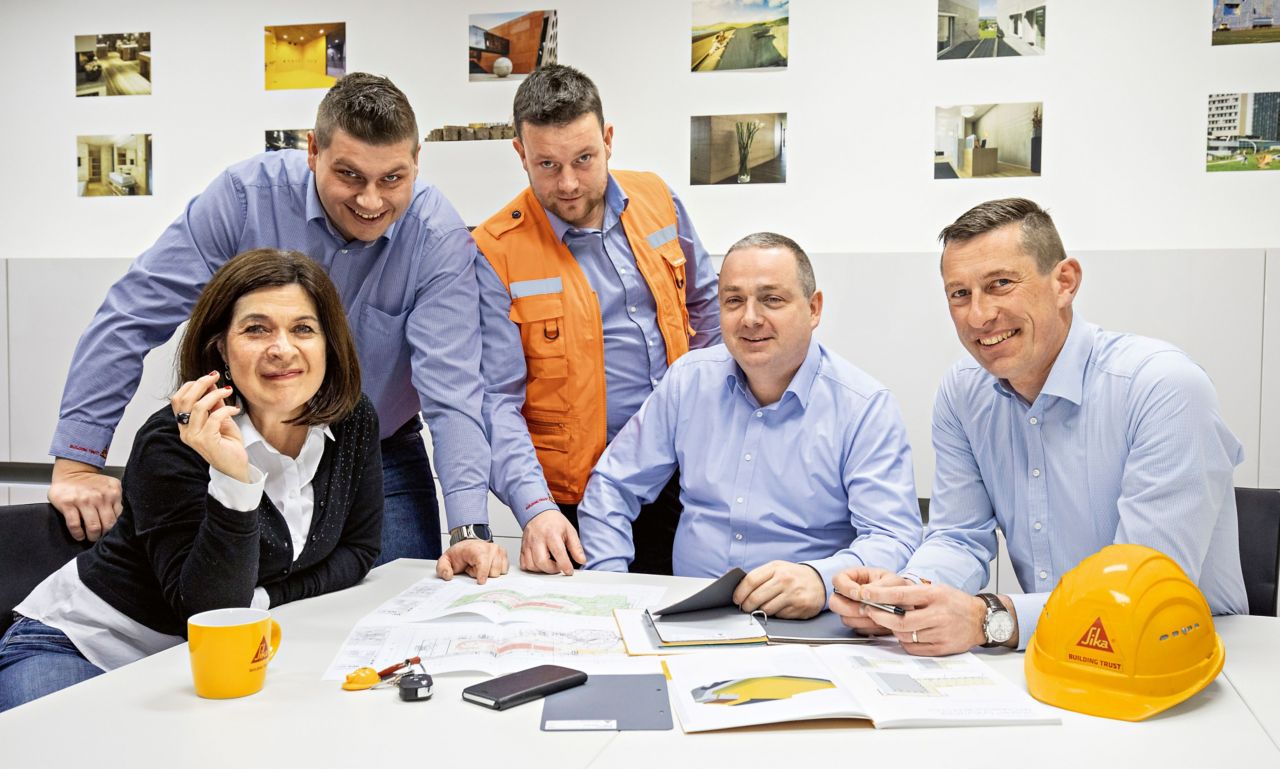 Sika Slovenia – Team Waterproofing and Roofing
Building trust starts within the team. With the knowledge of our technical sales teams and high-level solutions, we can support our customers in challenging projects on a daily basis. We are convinced that trust and our philosophy to provide solutions from the basement to the roof make us invincible.
Sika Switzerland – Design and Building Consultants
Urbanization is creating new challenges in architecture and fueling demand for state-of-the-art construction materials and integral technical solutions. As design and building consultants, we are often called in as early as at the planning phase so that we can work together with architects and planners to formulate tailored system solutions. With regard to "The Circle" in particular – Switzerland's biggest-ever building construction project – we have been involved as consultants for a number of years and are supporting the project with waterproofing, corrosion protection, facade, concrete, and mortar systems.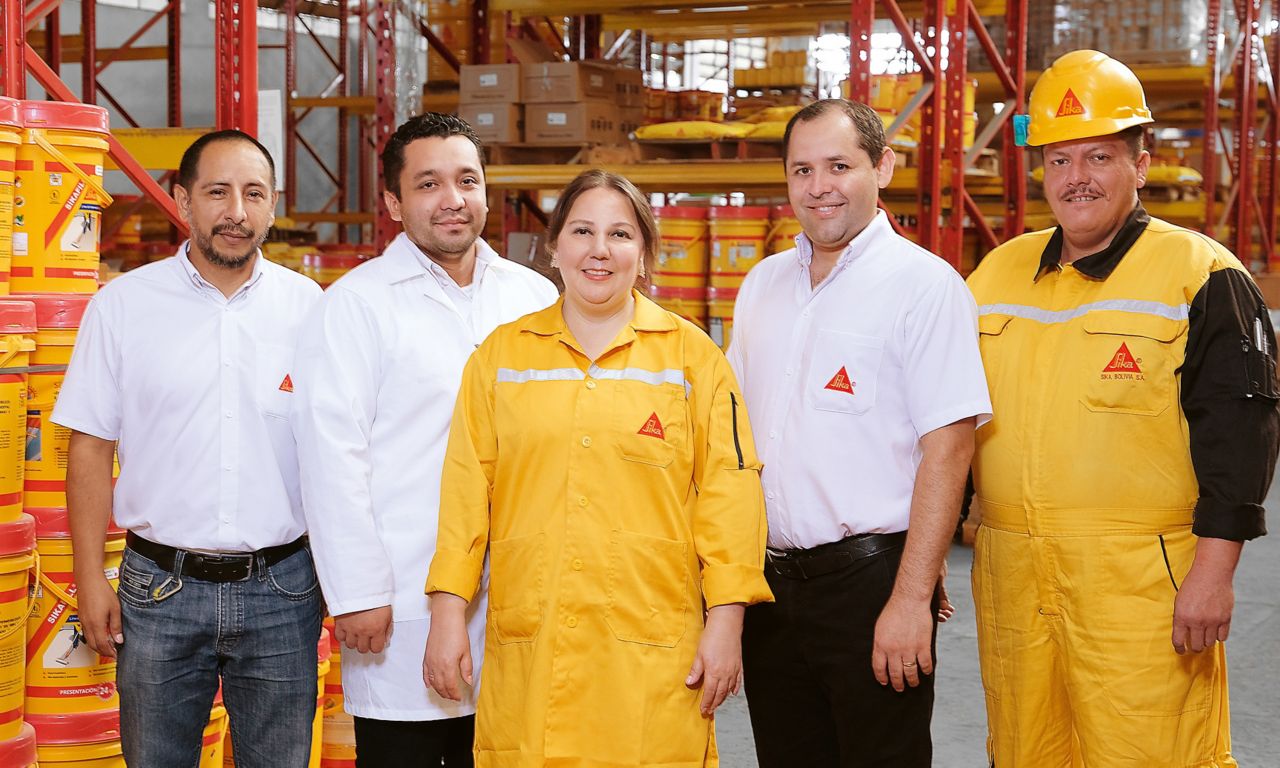 Sika Bolivia – Team R&D, Operations, and Sales
At Sika Bolivia we understand that teamwork is a key pillar of success. R&D,operations, and commercial staff collaborate to create new ideas and solutionsfor our customers. Therefore, we are the most important supplierof admixtures and other products for road integration projects in Bolivia.These projects are rising in demand as urbanization continues.
Sika Tanzania – General Manager with Team
Sika opened the first concrete admixtures plant in Dar es Salaam, Tanzania, in 2017. This enables us to efficiently supply toplevel admixtures to the main infrastructure projects in the country, including the new terminal at the Julius Nyerere International Airport, the Tazara flyover, and the SGR project, the new railway line that will connect Dar es Salaam with Kampala, Uganda. Our global footprint, combined with our know-how and support on a local level, is contributing to the urbanization of the major cities in Tanzania.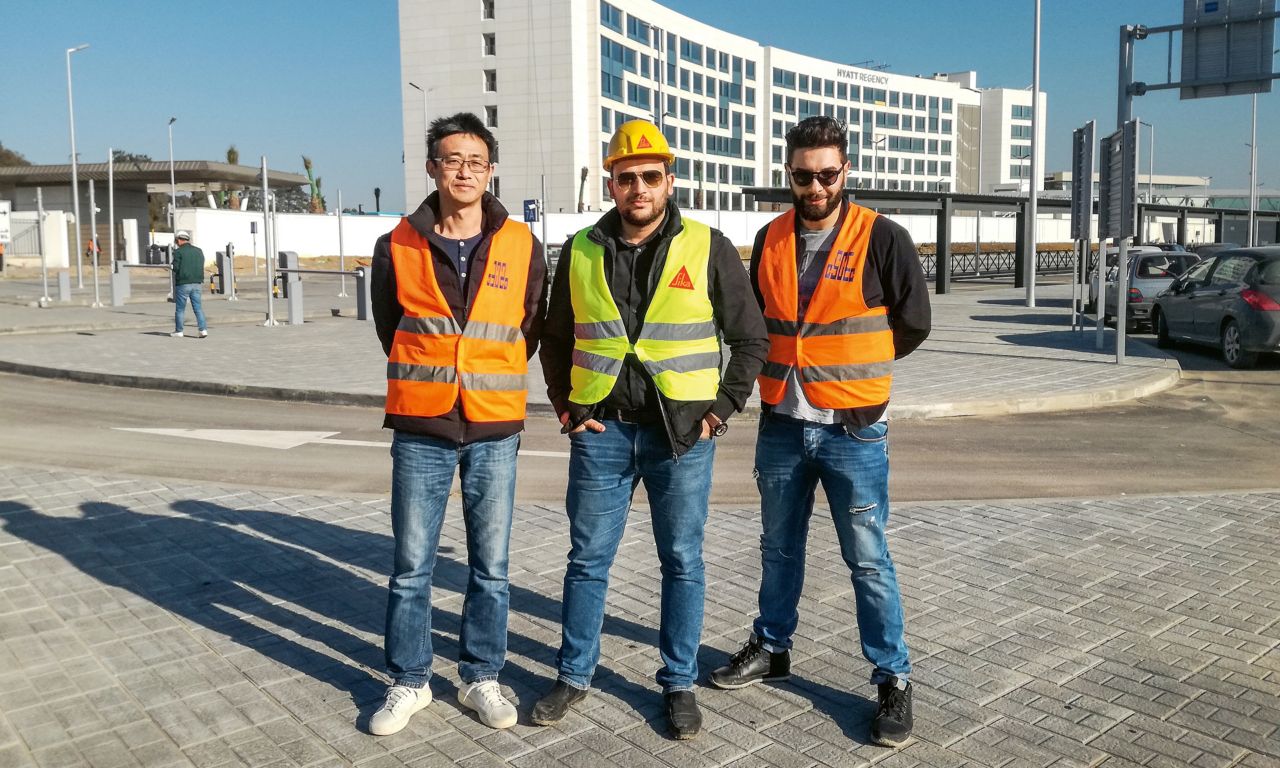 Sika Algeria – Sales Team with Customers
Together as a team we listen to our customers to understand their needs and provide them with solutions to increase efficiency that not only meet but exceed their expectations. This was also the case at the construction of the new hotel complex close to Algier Airport, which connects the vibrant city with the world.