Major cities are going vertical. This is the only way to create space for the growing number of people being drawn to urban living. The Hudson Yards project in Manhattan illustrates perfectly the opportunities provided by densification and the challenges associated with it.
Office accommodation for 50,000 people, 4,000 apartments, 100 shops and restaurants, a hotel, schools, and parks. Hudson Yards on Manhattan's West Side is set to become a city within a city, complete with a 50-meter-high interactive art installation costing USD 150 million to give it a unique identity.
How Densification Works

At USD 25 billion, Hudson Yards is the biggest private real-estate project in US history, and a textbook example of densification in an urban environment. Until a few years ago, all you would have seen at this site on the Hudson River were Long Island Rail Road trains being marshaled. Now a huge platform has been erected across the marshaling yard, above which around 15 skyscrapers jut further into the sky with every week that passes. By the time the project is completed, around 1.7 million m² of usable space will have been gained.
Urban centers act like magnets. Worldwide, three million people a week move into cities; by 2050, seven out of ten people will live in an urban environment. This is a major challenge given the lack of available groundspace.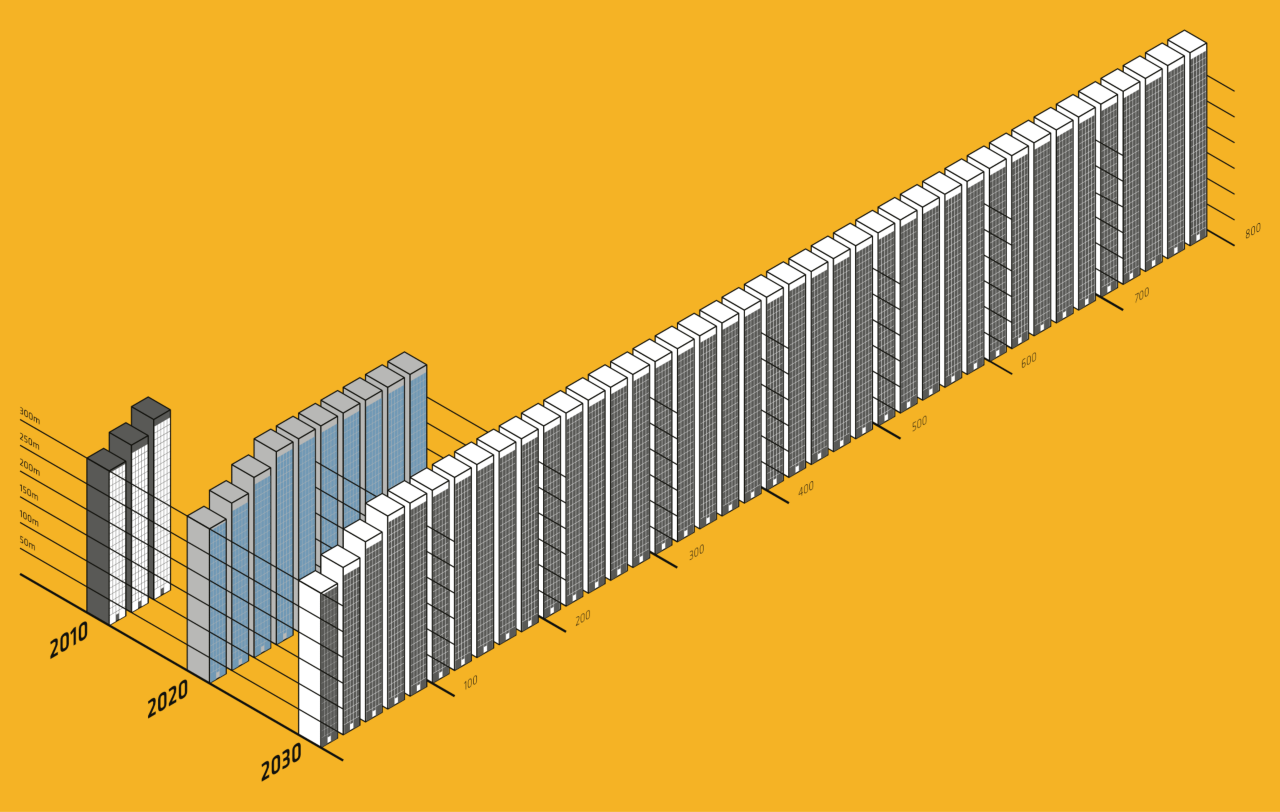 Image: A supertall skyscraper is a high-rise that is at least 300 meters tall. In 2010, there were 50 of them worldwide, but numbers have been growing rapidly in the meantime. Sika technologies are making these high-rises safer, more comfortable, more climate efficient, and more economical.
Vertical Living
The answer to this trend is compact, vertical construction. Population density has been rising in Manhattan since the 1980s, and the skyline is changing at breathtaking speed. Two thirds of the world's supertall towers – those measuring 300 meters or more in height – have been built since 2010. By 2030, numbers will have quintupled to 800.
More Comfort, Greater Safety
When people live closer together, the requirements that buildings have to meet increase. Quality, safety, and sustainability become more important, as the Hudson Yards project shows. Given the stringent standards that skyscrapers have to meet in terms of strength, concrete becomes a key construction material. The site's proximity to the Hudson River makes robust and reliable waterproofing a must. The skyscrapers' glass facades must be able to withstand strong winds and steep fluctuations in temperature. And short construction times are extremely important in ensuring that the ambitious timelines can be respected.
Success Model
Sika has the right technologies for all these challenges, from additives for high performance concrete and self-leveling mortars to waterproofing solutions and sealants for glass facade elements. But Sika is more than just a broad range of innovative products. The Group stands apart for its comprehensive, solution driven approach and technical experts, many of whom work in sales and provide professional advice to customers, frequently doing so on the construction sites themselves. Partnership begins at the planning phase, when specifications for the products that will be required are drawn up, and continues throughout the project. Sika's holistic approach is key in complex major projects such as Hudson Yards, where new issues are constantly arising and have to be resolved quickly. Doing so drives densification forward successfully in a way that makes it a high-quality living experience.
Hudson Yards Project
The Hudson Yards project in New York is the biggest private real estate development in US history with 15 planned high-rises.
USD 25 BN
is the estimated total amount being invested in the Hudson Yards project.
43'000 M²
is the area of the glass facade of 35 Hudson Yards, the highest residential building in the development. Most of the high-rises will have glass facades.
113'000 M²
or 16 soccer pitches is the area covered by the urban development project on Hudson River. Hudson Yards is being erected on platforms above a rail yard belonging to the Long Island Rail Road.

300
caissons – reinforced concrete retaining structures – support the first of two platforms on which Hudson Yards is being built. The columns are up to 1.6 meters thick and up to 25 meters long or deep.

USD 2.1 BN
is how much the City of New York is investing in extending Subway line 7 to Hudson Yards. Having a Subway connection was one of the project prerequisites. The new line runs about 40 meters below ground.

>20 YEARS
is how long construction will last and generate demand for high-quality building materials. This is why it is important to engage reliable suppliers who can guarantee and deliver top-quality products over a long period of time.

Sika has the technologies, systems, products, and experts needed to provide full support for a project of this kind.
High performance concrete

Using Sika additives to create the right mix design guarantees highperformance concrete that requires less water, stays transportable for longer, can be pumped several hundred meters vertically, cures quickly after pouring, and has a high compressive strength.
Self-leveling

Thus far, self-leveling mortars from Sika have been used on surfaces of 100,000 m². They reduce the time needed to construct a story. This is important because concrete suppliers only get paid when the story is complete.

Technical advice

Sika's experts are providing technical advice and professional support throughout the 20-plus years of planning and construction.

Waterproofing
Sika supplied over 110,000 m² of Sikaplan® membranes, Sika® Greenstreak ® waterstops, and other waterproofing systems for the Subway line 7 extension. In so doing, it helped fulfill the requirements for deep construction by the Hudson River.

Sealing
Sikasil® was used to insulate the glass facade elements in all five of the high-rises constructed to date – a total facade area of 228,500 m². The system delivers high climate efficiency and compensates for dynamic effects such as wind load or temperature fluctuations.

Longevity
Because Sika's high-quality solutions are designed for a long service life, they help to reduce total cost of ownership.