Sika is opening up a major market for distribution business in China.
More than 25 million new apartments and hundreds of thousands of high-rise buildings are built every year in China. The country develops at a rapid pace, and the key driver of this trend is urbanization. By 2030, seven out of every ten Chinese will be urban dwellers, and a further 150 million people will have moved to the city in the meantime.

Building Finishing Business Growing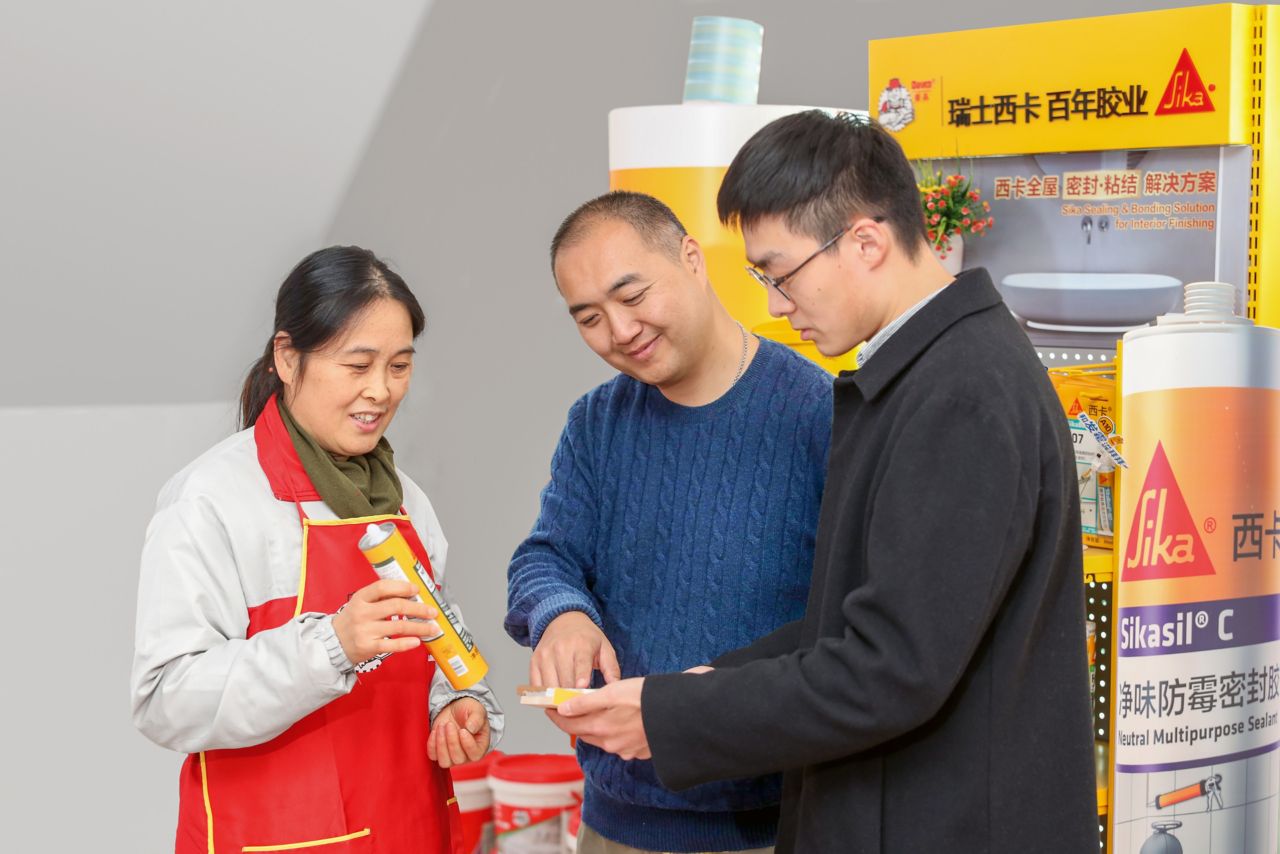 Image: The Sika products' high-quality properties are demonstrated to craftsmen in the new points of sale. Access to the distribution network of Parex offers a vast potential in China.
Demand for the construction materials used for building finishing is also rising in parallel to the surge in the need for new accomodation. China differs from the world's other major construction markets in one very particular way: be it in Shanghai, Shenyang, or Hangzhou, construction companies build more than half of the apartments as shell constructions. The fitting of kitchens, installation of bathrooms, or the laying of floors is the task of the apartment owner.

For Sika, the Chinese market offers enormous potential, above all in the mortar business, and this potential has increased with the successful integration of Parex. "Sika has a strong brand and broad spectrum of products, while Parex has the distribution network and the direct access to clients in the building materials trade", explains Olivier Chaudet, Head of Target Market Building Finishing and Distribution Asia Pacific. 

"When it comes to the finishing of buildings, Sika offers a wide of range products, from facade mortar, tile adhesives, and waterproofing systems through to sealants and adhesives. With the takeover of Parex, we have at a stroke acquired a presence in 1,200 cities and towns, and thus cover around half of the entire market." Olivier Chaudet, Head of Target Market Building Finishing and Distribution Asia Pacific
Craftsmen looking to lay tiles or seal joints require reliable products that are easy to use. Both wage costs and an emphasis on quality are on the rise in China. An ever smaller volume of mortar ends up being mixed directly on the building site, whereas volumes of ready-mix mortar products – of the kind offered by Sika and Parex – are on the rise. With the new building finishing target market, the company's market position in the mortar industry will be strengthened further. "We are continuously expanding our production capacity in order to keep pace with growth momentum", says Olivier Chaudet.

Strengthening the Distribution Business throughout the Group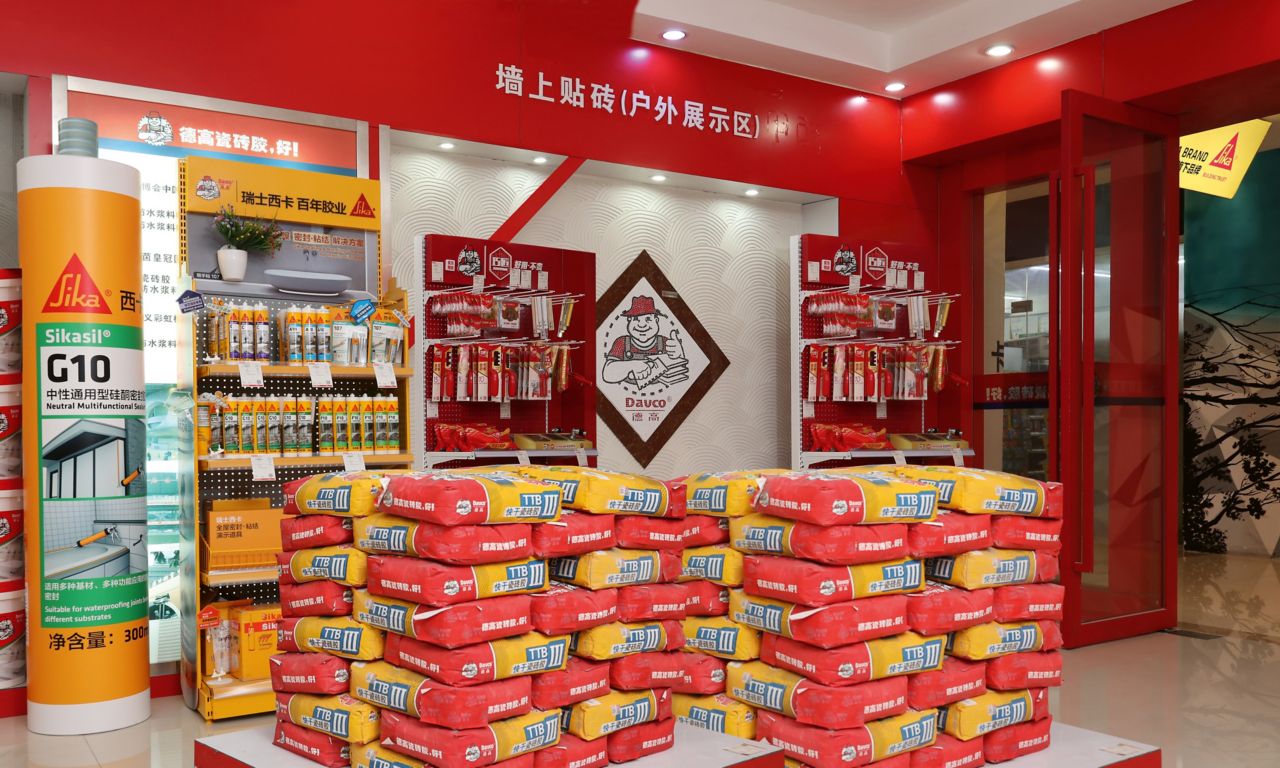 Image: By the end of 2019, Sika had established more than 2,000 shop-in-shops in China. Next to various Davco mortars, craftsmen can now source the appropriate sealants and adhesives from the Sika range.
Sika is looking to increase its share of distribution not just in China, but all round the world. The aim is to increase sales via this channel to more than 45% by 2023. Craftsmen and smaller construction companies should be more easily accessed, and market penetration increased. This is of particular importance in countries where Sika has so far mainly sold its product solutions directly in projects to general contractors and planners.
The successful integration of Parex opens up great potential for Sika in China. The company now has access to the 3,000 exclusive shops of Davco – the brand under which Parex sells its products – as well as a further 110,000 points of sale across the country. This is a crucial breakthrough, as in China it is not the large home improvement stores that dominate the business. In order to meet their needs, local craftsmen typically drive their trucks and vans to one of the shopping streets on the urban periphery, where numerous shops are located next to each other. Here, right by the products of Davco, Sika is now offering a selection of its solutions.

"Craftsmen can now find sealants and adhesives to install basins and bathtubs efficiently and reliably right next to established mortar products." Olivier Chaudet, Head of Target Market Building Finishing and Distribution Asia Pacific

National Tiling Champions
To help craftsmen use their products in the optimum way, Davco offers targeted training in its stores. Every year, more than 60,000 tilers throughout China learn the benefits of Davco's product range in this way. The bond with craftsmen is also strengthened at "tiling championships":

ever since 2014, competitions have been held first regionally and then nationally to identify the best tilers in China. In 2019, thousands of craftsmen took part in these championships.

The final took place in Guangzhou in November. For the first time ever, tilers from all over the world took part in the competition.