Global Reach - Regional and Local Impact
Training and development are of strategic importance for Sika. Global, regional and local programs have been designed to support the careers of our employees, and the introduction of the digital SikaLearn platform for all training activities has enabled multi-channel accessibility to training modules.
SikaLearn/Sika Business School - The Best Perspective on Your Career
Sika provides its employees opportunities for skills development by offering relevant instructor-led and blended learning training programs anywhere in the world.  Many are delivered in the mother tongue language of that respective country.
For sales, we support both new and experienced sales professionals.  For new or less experienced sales professionals, we offer our foundational program that addresses sales fundamentals and the Sika way of selling.  For the more experienced, we offer key project management, key account management, customer interface, pricing, and pricing negotiations skills.  
Other programs for our general workforce include management/leadership skills, presentations skills, and negotiations skills.  There are also yearly academies: one is in Operations; the other in Sustainability.   
In 2018, 12 foundational sales programs and 17 sales programs for experienced sales professionals were delivered.  Another 70 programs on the other topics were delivered in 21 countries and in 13 languages.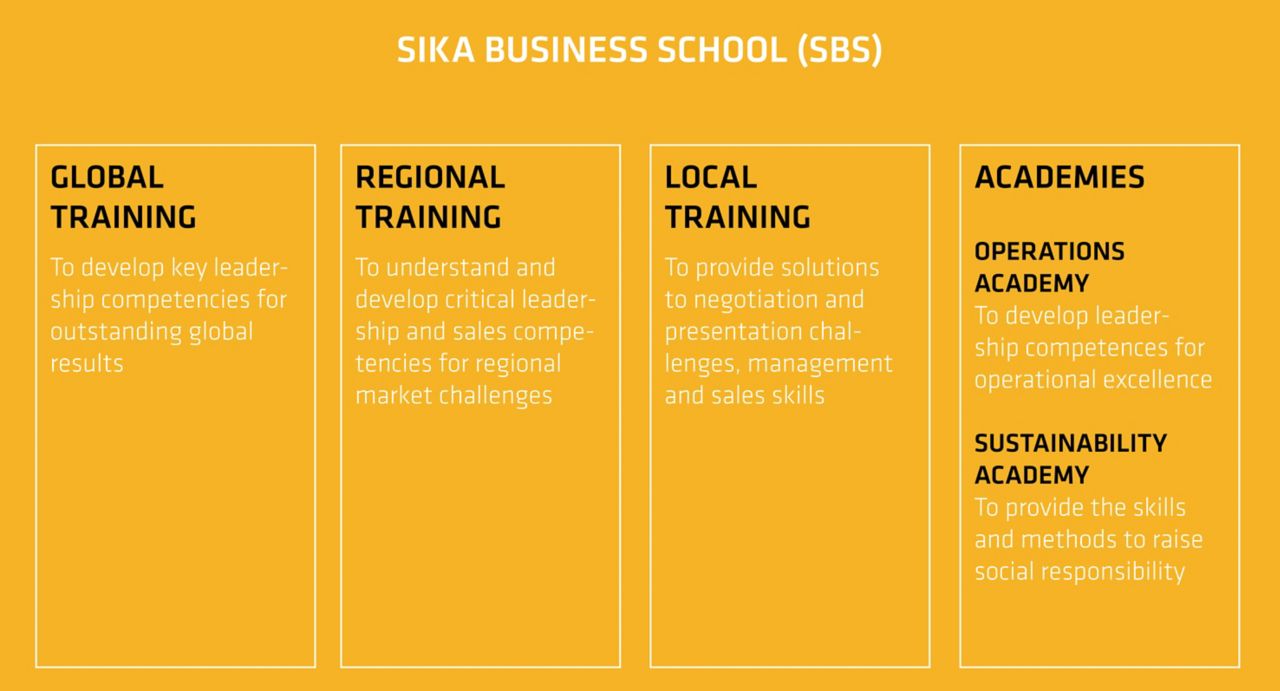 The Five Pillars of Sika's Training Program
Development of Sika's Salesforce
Supporting the implementation of Sika's focused growth strategy to a sales professional's work environment - one of the core competences.
Further target groups of Managers who demonstrate the requisite leadership skills and competencies to drive superior performance in support of Sika's culture.
E-Learning/Individual Learning
All employees have the opportunity to take digital training modules using the SikaLearn online Platform.
Four Sika Academies: Contractors Academy, Concrete Academy, Industry Academy and Procurement Academy, transfer knowledge regarding technical information. The customer benefits from hands-on knowledge and from practical and theoretical workshops based on customer cases.
Train-the-Trainer Approach
Another crucial structural feature of the Sika Business School is the systematic "Train-the Trainer" approach. The Sika Business Schools offers employees and external customers techniques on how to quickly convey the expertise of Sika's experts, including standards on how to develop and conduct trainings.