Silvio (Sil) Santangelo retires after 60 years with Sika
Sil Santangelo retired from Sika Corporation in February 2017, after 60 years of dedicated service to the company he has truly become synonymous with.  It has been a tremendous ride for Sil who joined Sika on February 6, 1957, just two years after graduating from Passaic High School in New Jersey.
Sika Chemical Corp., as it was known back then, was a very different company in 1957.  There were only 25 employees and the product line consisted of only 10 products including Plastiment, AER, waterproofing mortars and Igas sealants.  Sika had only been established in the United States since 1937 and the move to Lyndhurst was still 10 years away. Sil comments, "When I started with Sika, it was like family. That same family spirit exists today – 60 years later! It is a very diverse organization. I am still proud to be a part of it."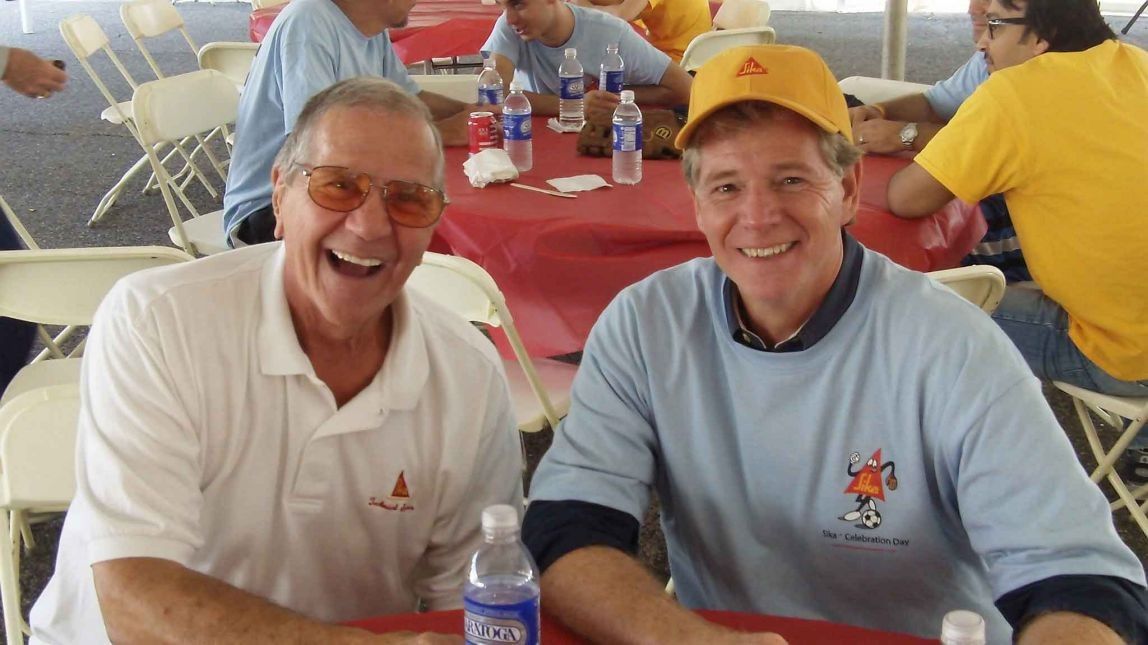 Image: Sil Santangelo (left) and Rick Montani, Excecutive Vice President, Sika USA (right)
Concentrated Experience
Sil's advice to others who strive to achieve the same loyalty to one company is, "dedicate yourself to learn all you can, enjoy challenges, be flexible in what and how you do things and have fun at work." Sil is probably best known for his training schools over the years.  He has literally trained thousands of engineers, specifiers, and contractors in the proper use, safety and application of the Sika products over a 60 year career. Now that Sil has retired full time, he is looking forward to spending more time with his grandchildren and, of course, remembering all his fun times at Sika.
Witness to Sika's history
Sil was proud to serve under 10 Sika presidents over his 60 year career.  Sil's first job at Sika was as a concrete lab technician, mostly working on mix designs for the admixture department.  It was not until the late 1950's and early 1960's that epoxy resins found commercial success in the construction industry, mostly due to the efforts of Sil.
Sil was one of the pioneers of epoxy resins, championing their use in North and South America, before being promoted to group leader of the Colma Testing Laboratory and working with products such as Colma-Dur. He travelled extensively for Sika, visiting all 50 states to support the business. He also authored numerous articles on concrete repairs and was published in many international magazines. Sil holds several patents and served on the Board of Directors of SWRI as well as Chairman of the Government Relations and Hazardous Material Committee.
During Sil's long and successful career at Sika, he wore many hats and really was instrumental in the company's success.  Among the positions he held were Supervisor of Field Services, Product Manager Adhesives and Coatings, Marketing Manager, Director of Government Relations and Safety, Director of Marketing Development, and Director of Corporate Technical Service.  For the past 12 years, Sil has worked part time, managing claims, supporting the legal team and being involved with other special projects.